What are the best birth control options for acne?
The Food and Drug Administration (FDA) says three birth control pills can help reduce acne — Yaz, Estrostep Fe, and Ortho Tri-Cyclen.
Medically reviewed by
Jennie Olopaade, PharmD, RPH
Updated on
February 24, 2023
Acne is a common inflammatory skin condition that affects people of all ages. Characteristics include pimples, blackheads, or whiteheads on the face, neck, back, and chest.
In some people, topical creams are enough to manage acne. More severe cases can require antibiotics.
In addition, certain types of birth control pills can help manage acne. The FDA has approved three types for this purpose: Yaz, Estrostep Fe, and Ortho Tri-Cyclen.
Other types of birth control can worsen acne, such as progesterone-only pills, rings, and implants. If you're looking for the best birth control option for you, consider talking with a healthcare professional.
Language matters
Sex and gender exist on a spectrum. We use the terms "female" and "male" in this article to reflect the terms assigned at birth. However, gender is solely about how you identify yourself, independent of your physical body.
Yaz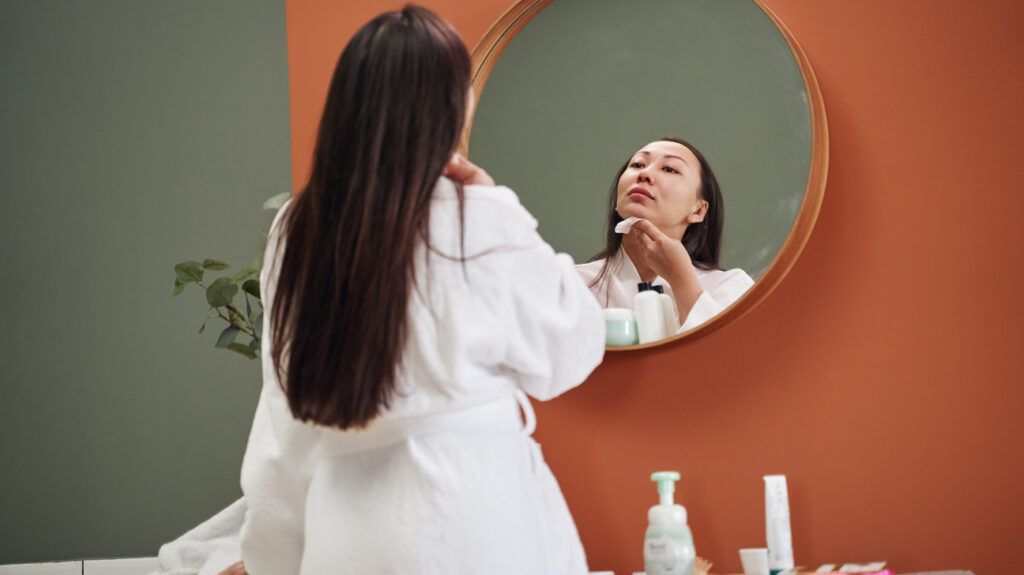 Yaz is a combination birth control pill that contains two hormones:
ethinyl estradiol
drospirenone
It works by regulating the hormones that cause acne, making it an effective treatment option for many women.
Additionally, a 2016 review reports that combined contraceptive pills containing drospirenone — like Yaz — are approved by the FDA for treating premenstrual dysphoric disorder.
However, Yaz may increase the risk of blood clots, so it's important to discuss the advantages and disadvantages with a healthcare professional before starting this birth control pill.
Estrostep Fe
Estrostep Fe is a low dose birth control pill that contains two hormones:
norethindrone
a low dose of ethinyl estradiol
Over a 21-day cycle, the pill delivers a consistent dose of norethindrone alongside an increasing amount of estrogen.
Like Yaz, this pill works by regulating the hormones that can cause acne, making it a suitable choice if you're looking for a lower-estrogen alternative to your birth control.
In addition, a 2019 review suggests that Estrostep Fe can help improve symptoms of endometriosis, including pain and irregular periods.
Ortho Tri-Cyclen
Ortho Tri-Cyclen is a triphasic birth control pill, meaning your monthly pills are split into three phases, each with different hormone concentrations. This medication contains the hormones:
norgestimate
ethinyl estradiol
In addition to preventing pregnancy, this pill may also reduce or cure acne by regulating your hormones.
According to a 2021 study, Ortho Tri-Cyclen may have a lower risk of blood clots than Yaz and Estrostep Fe.
If you need help covering the cost of birth control medication, Optum Perks free Discount Card could help you save up to 80% on prescription drugs. Follow the links on drug names for savings on that medication or search for a specific drug here.
Free prescription coupons
Seriously … free. Explore prices that beat the competition 70% of the time.
Get free card
What birth control worsens acne?
While some birth control pills can improve acne, others may worsen the condition.
In particular, 2021 research indicates that progesterone-only options — whether in the form of a pill, implant, or vaginal ring — could worsen acne.
Further, a 2020 cohort study suggests that both the copper intrauterine device (IUD) and levonorgestrel IUD may be associated with increased acne in some women.
If you use birth control and find that your acne has worsened, it's a good idea to speak with a healthcare professional to discuss alternatives that can help clear up your skin.
How to choose the birth control that's right for you
Choosing the best birth control for acne can be difficult, with many factors to consider.
Here are some topics to discuss with your doctor:
Family health history: It's important to discuss your family health history to identify if hormonal options are safe for you to take. For instance, a family history of blood clots could indicate that the combination pills listed above aren't the best choice.
Personal health history: Elevated blood pressure, past blood clots, migraine, and overweight are all factors that could mean that combination pills aren't the ideal birth control option for you.
Smoking: The risk of blood clots increases with smoking. If you smoke, your doctor may recommend avoiding combination contraceptive pills.
Administration: To protect against pregnancy and provide the best antiacne effect, you need to take combination birth control pills daily. If you think you might forget, longer-lasting options like IUDs may be a more suitable option.
Side effects: Although research is mixed, some women find that combination birth control alters their mood, sexual drive, energy, and other factors. If you're worried about these potential side effects, it's a good idea to talk them through with a healthcare professional.
Reversibility: Permanent birth control options include male and female sterilization, while reversible options include implants like IUDs.
Sexual partners: Only certain barrier methods, like condoms, protect against some sexually transmitted diseases (STDs). In some cases, it may be best to use condoms to protect yourself, even if you also use other birth control options to manage acne.
By talking this through with your doctor, they can help determine the best option for you.
Summary
In the United States, the FDA has approved three birth control options for the treatment of acne:
Yaz
Estrostep Fe
Ortho Tri-Cyclen
These work by regulating hormones in your body to both prevent pregnancy and possibly clear up your skin.
If you're considering using birth control for acne, it's best to speak with a doctor or another healthcare professional to identify your best options.
Article resources