8 products that take the frustration out of breastfeeding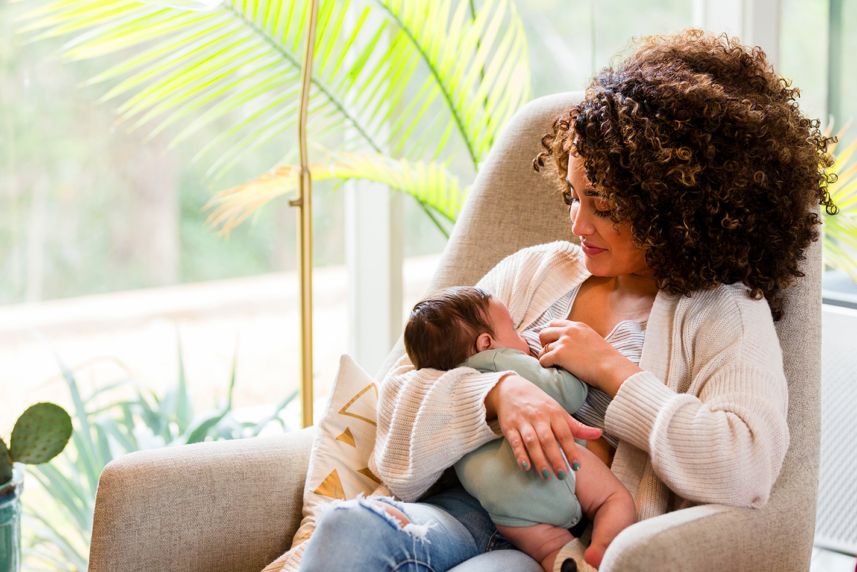 In the Optum Store, you'll find a wide selection of breast pumps, pads and soothing pearls. Here are some to check out.
Updated on
August 2, 2021
Many moms-to-be look forward to breastfeeding their babies for all kinds of warm and fuzzy reasons. The health benefits that it can bring both mom and baby are a sweet bonus.
Breast milk has cells, hormones and antibodies that help protect babies from illness. According to the U.S. Department of Health and Human Services, breastfed babies have lower risks of numerous health issues, including asthma, type 2 diabetes, eczema and childhood leukemia. At the same time, mothers who breastfeed have a lower risk of type 2 diabetes, certain types of breast cancer and ovarian cancer.
But breastfeeding can also be challenging. Among the most common problems: sore nipples and engorged or leaking breasts, according to the Office of the Surgeon General. So while you don't absolutely need special tools to breastfeed, "there are a few items that will make your journey a little more comfortable," says Taryn Mickus. She's an international board certified lactation consultant (IBCLC) and the owner of Milk Nook Lactation Consultant Services in Alameda, California.
To help breastfeeding mothers, the Optum Store offers a wide selection of pumps, nursing pads and more. Plus, if you have a health savings account (HSA) or flexible spending account (FSA), you can use it to shop for most products in the Optum Store. (Don't forget, you can always find medication discounts in the Optum Perks mobile app.)
Top tools for breastfeeding moms from the Optum Store
We've rounded up a few of our favorite nursing products and asked Mickus to weigh in on the problems they can help solve. (Note: The specific product selections were made by the Optum Perks team.)

Lansinoh Signature Pro Double Electric Breast Pump, $85.99*
"An electric pump is going to be the right fit for most mothers," Mickus says. She recommends avoiding pumps that have only 1 pumping flange: "Pumping on one side at a time can impact your milk supply and takes more time. Instead, look for a double pump with a strong motor."

This lightweight, portable electric pump nails it. You can power it with a standard AC cable or 6 AA batteries. For comfort, it comes with 8 suction levels and features soft, flexible flanges.
Lansinoh Smartpump 2.0 Double Electric Breast Pump, $159.99
This smart version of the Double Electric Breast Pump comes with all the features of the Signature Pro, plus Bluetooth compatibility. That allows it to sync with a companion app to track your pumping sessions. It saves you the critical step of logging that information manually after each pump. The Smartpump is also easy to set up for each use: It remembers your pumping style and suction settings from the previous pump so you can pick up right where you left off.
Lansinoh Manual Breast Pump, $32.99
This manual pump is ideal for when you need to pump quietly, without the buzz of an electric motor. It's also helpful when you're on the go and can't carry your electric pump, and it comes in handy as a backup in case you forget to swap out the batteries on your electric model. "If you plan to breastfeed exclusively and don't have to leave your baby regularly for work or school, a manual pump might be right for you," Mickus notes.
This manual pump has 2 expression modes — stronger for milk stimulation and softer for expression. It also has 2 flange sizes and an ergonomic handle for comfortable pumping.
Lansinoh Breastmilk Storage Bags, 100 for $19.99
These pre-sterilized bags hold up to 6 ounces each. They make it easy to freeze milk for later use. They're compatible with all Lansinoh breast pumps, so you can express milk directly into the bag. They're BPA- and BPS-free, and they're durable and leak-proof, thanks to double-sealed seams and a heavy-duty double zipper seal.
Free prescription coupons
Seriously … free. Explore prices that beat the competition 70% of the time.
Get free card
Lansinoh Stay Dry Nursing Pads, 36 for $5.99
Breastfeeding women often leak at night and between sessions, says Mickus. Nursing pads can help prevent the milk from soaking through your shirt and bra. Some women prefer reusable cotton nursing pads, which you wash after each use. But disposable pads like these come in handy when you're away from home and you need a solution ASAP.
Lansinoh's pads are individually wrapped and made with a quilted honeycomb lining. They wick moisture away from your breasts, which helps prevent infection and maintain healthy skin. They're also discreet. Along with a contoured shape, the 2 adhesive strips help the pads stay in place.
Lansinoh Soothies Gel Pads, $8.99
Hydrogel pads can help heal painful sores and cracks on your nipples and breasts, says Mickus. "Similar to nipple ointments, they provide a wet-wound healing environment," she says. "Clinical research finds that when wounds are kept moist, they heal 3 to 5 times faster."
Another perk of hydrogel pads? You can pop them into the refrigerator before use. "It feels really good to put a cool pad on," Mickus says.
Lansinoh's Gel Pads are made with vegan glycerin and a fabric liner that acts as a barrier between your nipples and clothing. Each pad can be used for up to 72 hours.
Lansinoh TheraPearl 3-in-1 Breast Therapy Packs, $13.99
When heated in the microwave, the packs stay warm. When cooled in the refrigerator or freezer, they stay cool. And both options — hot and cold — are useful in different situations, says Mickus.
"Warm compresses are effective when treating plugged ducts, nipple vasospasms [constricted blood vessels] and slow letdown [when milk comes out slowly]," she says. "Cold compresses are helpful for women who experience severe breast engorgement in the first days after birth."
In addition to holding heat and cold, the packs are designed to be comfortable. They're soft and flexible, and they attach to your breast pump. This allows you to use them while pumping.
Lansinoh Breastfeeding Starter Set, $24.99
This starter set bundles together 4 breastfeeding must-haves:
Stay-Dry Disposable Nursing Pads help prevent leaks from soaking through clothing.
TheraPearl 3-in-1 Breast Therapy Packs for apply heat or cooling to breasts and nipples.
LatchAssist Nipple Everter draws out nipples that are inverted or flat from swelling. This can make it easier for your baby to latch.
Lanolin Nipple Cream helps heal cracks and sore spots. Creams work similarly to gel pads, and Lansinoh's is made from ethically sourced and refined lanolin. It contains no preservatives, parabens, fragrance or taste.
*Prices may vary and are subject to change.