Lexapro side effects: What to expect during your first week
It can take up to 6 weeks to feel positive effects from Lexapro. During the first week of taking it, you may encounter side effects like diarrhea and nausea. However, these should pass after a short time.
Medically reviewed by
Philip Ngo, PharmD
Updated on
September 29, 2023
Lexapro is a brand-name version of the generic drug escitalopram. Doctors and healthcare professionals may recommend these medications to help treat depression and generalized anxiety disorder (GAD) for people ages 12 years and over.
Lexapro is part of the class of antidepressants called selective serotonin reuptake inhibitors (SSRIs), which work by increasing the levels of serotonin in your brain.
You may start with a low dose of Lexapro, with a doctor or healthcare professional increasing it after the first week or if they think it is necessary. It's important to continue taking Lexapro even if you feel better.
Side effects in the first week of taking Lexapro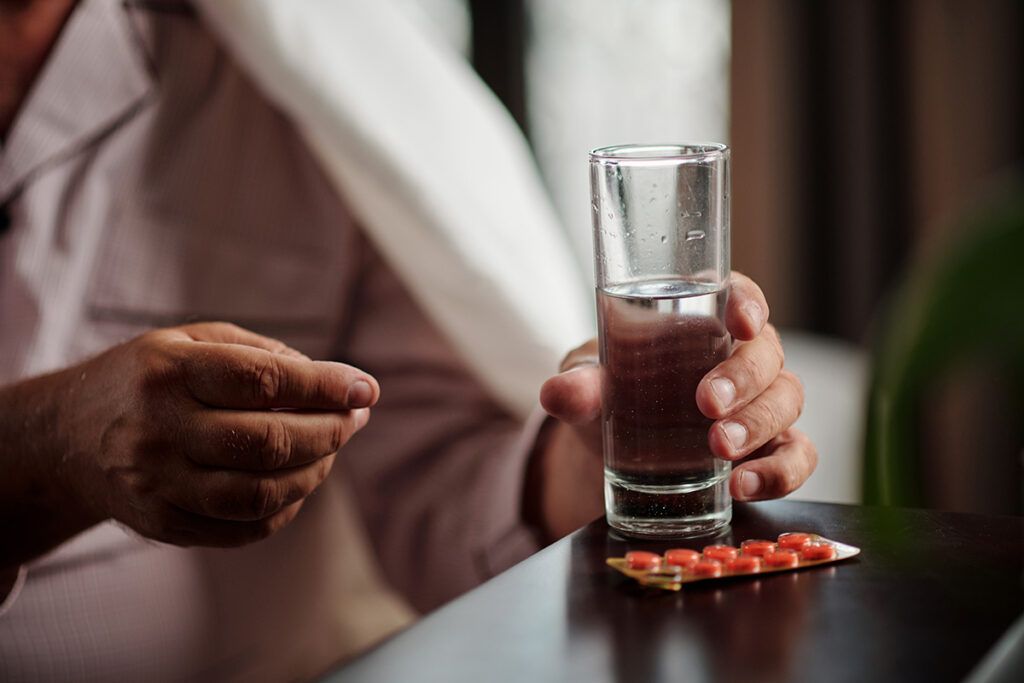 Before starting Lexapro, it's important to talk with a doctor or healthcare professional to make sure it is suitable for your needs. It can take up to 6 weeks before you notice any of the drug's positive effects. Like most drugs, there are also many short- and long-term effects that may differ in adults and children and vary from person to person.
The most common side effects typically happen within the first and second weeks of taking the medication but may improve as you continue to take the drug.
Side effects for adults include:
headaches
nausea
dizziness
dry mouth
diarrhea
feeling nervous or restless
fatigue or insomnia
increased sweating
sexual difficulties
infection
not feeling hungry
In addition to these side effects, children and young adults may also experience:
urination difficulties
nosebleeds
heavy menstrual bleeding
weight changes
possible slowed growth
Consider contacting your healthcare team if you experience uncommon symptoms while taking this medication.
If you need help covering the cost of medications, Optum Perks free Discount Card could help you save up to 80% on prescription drugs. Follow the links on drug names for savings on that medication, or search for a specific drug here.
Boxed warnings
Lexapro (escitalopram) has a black box warning, also known as a boxed warning, meaning it has specific and important side effects.
According to the Food and Drug Administration (FDA), Lexapro and other antidepressants may increase suicidal thoughts and behaviors in children and young adults ages 12 and older with major depressive disorder (MDD) or other psychiatric conditions.
The FDA does not approve Lexapro for anyone under the age of 12.
Contact a doctor or healthcare professional if you experience symptoms that include:
a new or increased feeling of depression or anxiety
restlessness or irritability
any other unusual mood changes
You can report adverse effects to the FDA by telephone at 800-332-1088. Alternatively, you can complete form 3500B.
If you or someone you know is considering suicide, you're not alone. Help is available right now:
Lexapro risks
You should tell your healthcare team about existing health conditions or any other medications you take before starting Lexapro.
Additionally, you may experience high levels of fatigue while taking Lexapro. Don't drive, operate heavy machinery, or engage in dangerous activity while taking the medication.
Although rare, SSRIs may cause serotonin syndrome. This happens when you take high drug doses or an SSRI in combination with some other medications or recreational drugs. Although this condition is potentially life threatening, once a doctor diagnoses serotonin syndrome, it usually resolves within 1–3 days of stopping the SSRI and receiving the appropriate care.
Free prescription coupons
Seriously … free. Explore prices that beat the competition 70% of the time.
Get free card
Existing health conditions
In some instances, Lexapro may affect other existing health conditions.
A doctor or healthcare professional may suggest a different medication or a lower dosage of Lexapro if you have:
a history of suicidal thoughts
bipolar disorder
seizures
glaucoma
They may also recommend a different medication if you're pregnant or nursing.
Drug interactions
Talk with a doctor or healthcare professional about any other medication you take, as some can interact with Lexapro. This includes prescription and nonprescription drugs, vitamins, and herbal supplements.
According to the National Alliance of Mental Illness (NAMI), people should not take Lexapro with or within 2 weeks of taking monoamine oxidase inhibitors (MAOIs). This includes:
Additionally, the FDA advises avoiding taking this medication with pimozide (Orap) — an antipsychotic drug doctors use to treat tics often associated with conditions like Tourette's syndrome.
Frequently asked questions
Below, we look at some common questions relating to Lexapro.
What if I forget to take a dose?
If you miss a dose of Lexapro, take it as soon as you remember unless the time is closer to your next scheduled dose.
Don't double your dose or take more than your doctor tells you to.
What if I overdose on Lexapro?
If you take too much Lexapro, call 911 immediately, as you may need urgent care.
You can also call Poison Control at 1-800-222-1222.
What should I avoid while taking Lexapro?
You should avoid alcohol and recreational drugs while taking Lexapro.
Both alcohol and other drugs can increase the side effects of Lexapro and may be dangerous.
Summary
Lexapro (escitalopram) is an antidepressant that doctors and healthcare professionals may recommend if you have a diagnosis of depression or anxiety.
During the first week of taking this medication, you may experience side effects like fatigue, diarrhea, or headaches.
Talk with a doctor or healthcare professional before taking Lexapro to make sure it is safe for you. If a doctor thinks it is unsuitable, they can offer you an appropriate alternative.
Download the free Optum Perks Free Discount Card to save up to 80% on some prescription medications.
Article resources