Weight loss drugs: What are the options?
Semaglutide (Ozempic), orlistat (Xenical), and phentermine-topiramate (Qsymia) are three of many available weight loss drugs in the United States in 2023.
Medically reviewed by
Ami Patel PharmD, BCPS
Updated on
October 27, 2023
Prescription weight loss drugs typically work by reducing appetite and increasing energy expenditure.
Some weight loss drugs are approved for this use, while others may be manufactured for a different purpose.
For example, a healthcare professional may prescribe medications approved for type 2 diabetes, such as semaglutide (Ozempic), for weight loss. This is an off-label use.
According to the Food and Drug Administration (FDA), "off-label" means using an approved drug for an unapproved purpose, in a different form, or at a different dose.
Dietary supplements that you can buy over-the-counter (OTC) for weight loss have different regulations than prescription medications. The manufacturer is responsible for safety and truth in labeling, and the FDA does not monitor the quality and safety of these products.
Prescription weight loss drugs available in the U.S.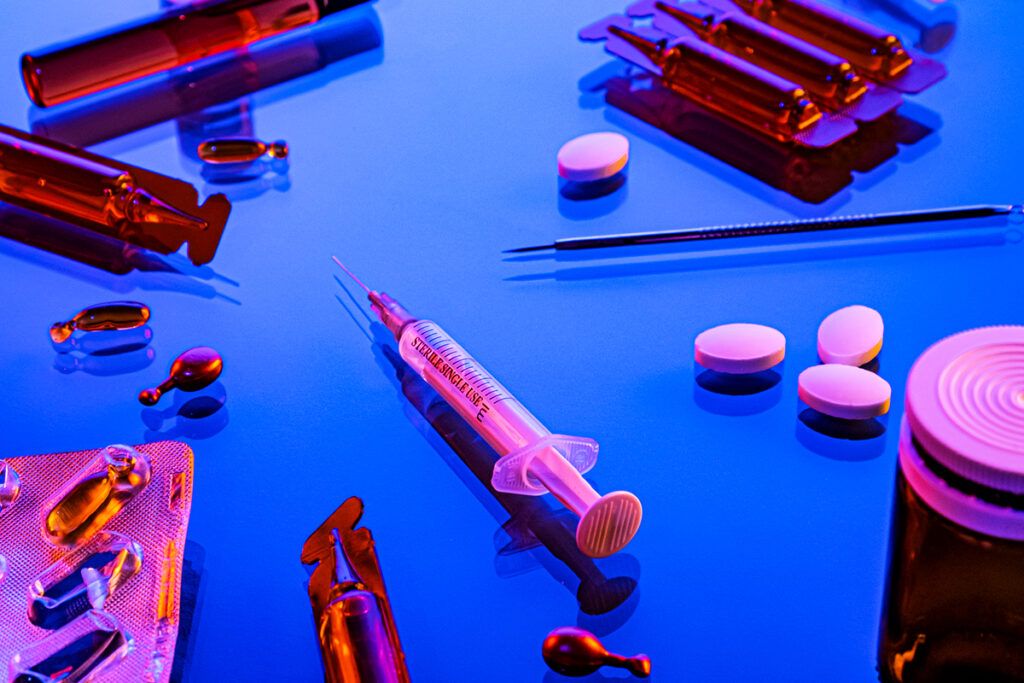 Weight loss medications come in different forms, doses, and active ingredients. Your healthcare professional can advise you on which is best for your needs.
GLP-1 agonists
Glucagon-like peptide-1 receptor (GLP-1) agonists have FDA approval for treating type 2 diabetes.
Specific brands of the GLP-1 active ingredients — semaglutide (Wegovy) and liraglutide (Saxenda) — are also approved for weight loss, even if you don't have diabetes.
Examples of GLP-1 agonists that doctors can prescribe on and off-label for weight loss include:
Research on GLP-1 agonists suggests people may lose an average of 2.9 kilograms (kg) when on any of these medications.
A 2023 study of the safety and effectiveness of oral 50 milligrams (mg) of daily semaglutide in adults without type 2 diabetes found that people lost an average of 15.1% of body weight over 68 weeks. This was significantly higher than the 2.4% weight loss in the placebo group.
Semaglutide is available as oral tablets under the brand name Rybelsus. All other GLP-1 agonists, including Ozempic and Wegovy, are available as daily or weekly injections.
Nausea, vomiting, headaches, and diarrhea are common side effects of GLP-1 agonists. Dizziness, indigestion, and infections are also possible.
Semaglutide is contraindicated for people who have a family history of medullary thyroid carcinomas or who have multiple endocrine neoplasia syndrome type 2.
If you need help covering the cost of medications, the free Optum Perks Discount Card could help you save up to 80% on prescription drugs. Follow the links on drug names for savings on that medication, or search for a specific drug here.
Orlistat (Xenical)
Orlistat is available in the United States under the brand name Xenical. It is a lipase inhibitor that blocks the absorption of dietary fat in your intestines. Instead, this fat passes through and is excreted in your stool.
Xenical is FDA-approved for weight loss and weight management in people with obesity and overweight and to help prevent regaining weight after significant weight loss.
Orlistat was approved in 1999 after a clinical trial found people lost an average of 10.3 kg body weight after 1 year of treatment, compared to 6.1 kg for the placebo group. In the second year, participants regained half as much weight on average as those who took a placebo.
This medication comes as an oral capsule you take with a meal containing dietary fats.
Side effects may include:
loose or oily stools
bowel urgency
stomach pain
anxiety
irregular menstrual periods
rectal discomfort
Phentermine and topiramate (Qsymia)
Qsymia is a combination of phentermine with topiramate. Phentermine is used as a weight loss aid, and topiramate as a medication for epilepsy and migraine.
Older research from 2013 suggests phentermine increases metabolism and decreases appetite, while topiramate works on neurotransmitters — chemicals involved in brain signaling — to reduce hunger and increase the feeling of being full.
Qsymia was approved by the FDA in 2012 for long-term weight management in people ages 12 years and older with obesity or overweight.
For a prescription, children and adolescents require a body mass index (BMI) in the 95th percentile or greater. Adults require a BMI of 30 kg/m2 or greater or 27 kg/m2 or greater with another condition, such as hypertension.
In a 2011 clinical trial, adults who took Qsymia lost an average of 8.1 kg or 10.2 kg, depending on the dose, over 56 weeks compared to an average loss of 1.4 kg for people who took a placebo.
A clinical trial published in 2022 found adolescents who took Qsymia lost an average of 4.8% and 7.1% of their BMI, depending on the dose, over 56 weeks. Those who took the placebo gained an average of 3.3%.
Qsymia is available as an extended-release capsule in four different strengths. It is not safe to take in pregnancy.
The most common side effects are:
dizziness
changes to your sense of taste
insomnia
constipation
dry mouth
pins-and-needles sensation
Free prescription coupons
Seriously … free. Explore prices that beat the competition 70% of the time.
Get free card
Naltrexone and bupropion (Contrave)
Contrave is a combination drug, including naltrexone, an opiate antagonist, and bupropion, an atypical antidepressant.
Contrave works by depressing your appetite, making you feel full, and helping you burn energy. Like Qsymia, Contrave is FDA-approved for chronic weight management in people with a BMI of 30 kg/m2 or 27 kg/m2 with certain weight-related conditions. Unlike Qsymia, Contrave is not FDA-approved for use in adolescents.
In four clinical trials, each lasting 56 weeks, people reached clinically significant weight loss while using Contrave.
The drug is available in an extended-release tablet. Your doctor will slowly increase your dosage over a specific time period until you reach a maintenance dose, which may differ for each individual.
Contrave comes with a black box warning, the FDA's strongest cautionary labeling. The label warns that Contrave may lead to a higher chance of suicidal thoughts and behaviors and neuropsychiatric reactions.
Doctors do not recommend Contrave for people with a history of hypertension, seizure disorder, or eating disorders.
Common side effects of Contrave may include:
nausea
constipation
headaches
vomiting
Setmelanotide (Imcivree)
Setmelanotide is a melanocortin 4 (MC4) receptor agonist. It reduces appetite and increases energy usage. It is available as an injection administered daily.
Imcivree is FDA-approved for people 6 years of age or older with obesity due to specific genetic conditions that make it difficult to lose weight by other means.
Imcivree is not advisable to use if you are pregnant or nursing.
Side effects of this medication may include:
skin darkening
headaches
depression
sexual dysfunction
nausea
vomiting
reactions at the injection site, such as redness and itching
OTC weight loss drugs
OTC weight loss products are not regulated for safety or effectiveness by the FDA. They usually fall into the category of "dietary supplements."
Manufacturers that sell dietary supplements must evaluate their safety and ensure product labels are truthful.
Examples of OTC weight loss products include:
Hydroxycut: The active ingredient is C. canephora robusta (green coffee extract). The company claims it is safe for weight loss in healthy adults if they use it according to the directions on the label.
Orlistat (Alli): Alli contains the same active ingredient as the prescription medication Xenical but in a smaller dose. It is not advisable to take Alli if you have chronic kidney disease or end-stage renal disease. It may interact with some prescription medications. Common side effects are gastrointestinal symptoms like stomach pain.
Meratrim: This herbal supplement contains extracts from Sphaeranthus indicus (globe thistle) flower heads and Garcinia mangostana (mangosteen) fruit rinds. Nausea, indigestion, and gastritis were reported by people taking Meratrim in a 2016 clinical trial, but the study authors said the side effects may not be due only to the supplement.
It is highly advisable that you consult with a healthcare professional before taking any OTC weight loss drugs. These may interact with prescription medications or cause adverse health effects, particularly if you have chronic conditions.
Download the free Optum Perks Discount Card to save up to 80% on some prescription medications.
New weight loss drugs coming soon
Pharmaceutical companies are actively working on several new weight loss drugs that may be available in 2024.
Some of the medications currently undergoing clinical trials to assess safety and effectiveness include:
Summary
Weight loss drugs are available as injections or tablets. They may be approved to treat chronic conditions in addition to managing weight loss. Some have approval for weight loss only in people with obesity and overweight.
A healthcare professional will assess your overall health and weight loss needs before recommending a prescription medication and corresponding dosage.
Unlike prescription medications, the FDA does not regulate OTC dietary supplements. The manufacturer is responsible for the safety of these products. It is a good idea to speak with a healthcare professional before taking an OTC supplement for weight loss.
Article resources