The newbie's guide to the DASH diet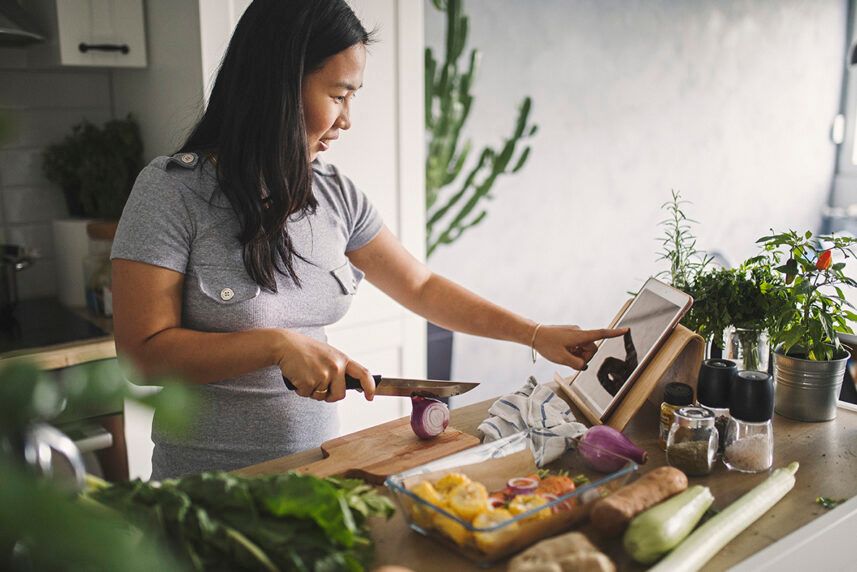 This eating plan packs serious health benefits, especially for people with high blood pressure, heart disease or diabetes. Here's how to get started with DASH.
Updated on
December 14, 2021
Some diets get all the fame. And some fly under the radar but are recommended by experts time and time again. That describes DASH perfectly.
DASH stands for Dietary Approaches to Stop Hypertension. It was developed 20 years ago with support from the National Heart, Lung, and Blood Institute (NHLBI). And it's continually ranked among the best diets for heart health.
But because of its health benefits, DASH can help anyone. (Same goes for our prescription discount program. Here's how it works.)
So why doesn't it get the attention that other diets do?
Well, the DASH diet is really an overall healthy eating plan, says Abbie Gellman. She's a New York City–based chef and registered dietitian, as well as the author of The Mediterranean DASH Diet Cookbook. In other words, DASH might not seem as revolutionary or enticing as fad diets that ask you to cut out food groups or change your lifestyle.
"The focus is simply on whole foods, including fruits and vegetables, lean protein, low-fat dairy, whole grains, beans and nuts," Gellman says
What foods will you limit? Those that are high in saturated fat, full-fat dairy, tropical oils (coconut, palm), and sugary beverages and sweets, according to the NHLBI.
What's more, although the focus is on reducing high blood pressure, this is not a no-salt diet, notes Gellman. Our bodies need sodium to function properly. But too much can lead to water retention, which raises blood pressure. That's why DASH advises people to limit their intake to 2,300 milligrams (mg) of sodium each day. For context, the average American consumes about 3,400 mg per day, according to the U.S. Food and Drug Administration (FDA).
But it's not all about sodium. The foods that DASH focuses on are packed with minerals that contribute to heart health, says Gellman. That includes potassium, magnesium and calcium. For example, the more potassium you eat, the more sodium you will lose through your urine. It can also help relax the walls of your blood vessels.
DASH has been proven to help lower blood pressure levels. As a result, it helps improve heart health, too. In fact, a 2019 review of research on the DASH diet found some amazing results. Adhering to DASH was associated with the following:
20% lower risk of heart disease
19% lower risk of stroke
18% lower risk of diabetes
Significantly lower blood pressure and cholesterol
Now that you know the health perks, are you wondering where to start? Here are 7 beginner-friendly tips for following DASH.
(Want to see how much you really know about heart health? Try our quick quiz to find out.)
Tip #1: Do a pantry dump
It's best to get a fresh start, and that means cleaning out your pantry and fridge. Gellman calls this a pantry and kitchen review. "Get rid of foods that contain highly processed carbohydrates and refined sugar," she says.
That includes things such as premade frozen dinners, packaged baked goods and desserts, chips, crackers and sugary drinks (such as sports drinks and sodas). Basically, anything that could be considered junk food.
Tip #2: Stock up on easy foods
Now that you have a clean slate, it's time to go shopping. Gellman recommends frozen fruits and vegetables (ones that are flash frozen and not packed in a sauce), canned beans, lentils and fish (salmon, tuna). She also recommends whole grains such as brown rice, quinoa and farro.
These are foods you should have on hand all the time, because — especially when it comes to frozen and canned foods — they can be used to throw lunch or dinner together in a flash. Bonus: They're also budget-friendly. If they're canned, Gellman recommends draining and rinsing them to remove the salt. (Also, try to buy no-salt-added versions.)
Tip #3: Know your goals
If you're eating about 2,000 calories per day, the NHLBI recommends the following servings for each food group/type:
Having these goals in mind can help you plan out your week to hit exactly the amounts you need of each type.
Free prescription coupons
Seriously … free. Explore prices that beat the competition 70% of the time.
Get free card
Tip #4: Add in fruits and veggies, gradually
Taking on a new diet can feel overwhelming. And if you're wondering how you can possibly change everything at once, know that you don't have to. "If you try to undo everything you have been doing in one go, you're more likely to have difficulty and feel overwhelmed. Make the transition simple," says Gellman.
Changing your diet in a gradual fashion can help you slowly move toward a DASH style of eating without overhauling your life. The first step is among the most impactful: Have a fruit or vegetable every time you eat, says Gellman. "Eating more fruits and vegetables will naturally help with blood pressure levels," she adds.
Ready for more small steps? Here are 16 little ways to lower your blood pressure.
Tip #5: Make sensible trade-offs
If you used to eat chips for a snack, it's not likely that you'll suddenly be satisfied by a plate of celery. So think about swaps you can make that will still scratch that craving.
For example, says Gellman, if you like chips and crackers, have a handful of nuts instead. "You'll still get that salty, crunchy bite like chips," she notes. Plus, nuts are a good source of magnesium, which helps regulate blood pressure, blood sugar and hundreds of other body functions.
Tip #6: Create your plate
Sitting down for a meal or snack? Use visual cues to make sure you have enough of the DASH-approved foods on your plate. "Try to fill half of your plate with plant-based foods. These can be foods like fruits, vegetables, beans, lentils or tofu — it doesn't matter. Just make sure they're plant-based," says Gellman.
Tip #7: Dress it up
More than 70% of the sodium most people eat in a day comes from packaged and prepared foods, according to the FDA. So by simply eating fewer packaged foods, you'll significantly cut down on your salt intake.
When cooking at home, you can add salt to your food to enhance the flavor. But Gellman advises putting in a little bit as you begin to cook, then tasting it later to see how all of the flavors are coming together before adding more. To boost flavor without salt, reach for herbs and spices and citrus juice (lemon, lime, orange, grapefruit), she says.
Another flavor enhancer? A really great sauce. This is where you can experiment with different recipes. One of Gellman's favorites: a basic sauce made by mixing tahini with plain yogurt and lemon juice. She drizzles it on top of roasted potatoes, vegetables, chicken or fish.
"Find 1 or 2 dressings or dips that you like, make a big batch for the week and keep it in your fridge," she says.
Now, aren't you more excited about dinner tonight? The DASH eating plan might not be the hottest new diet out there. But it's one that will surely please your palate — and likely improve your health for the long haul.
No matter where you are in your health journey, we can help you save on the medications you need most. Download our free mobile app to get started today.