Surprising screenings you can get at the pharmacy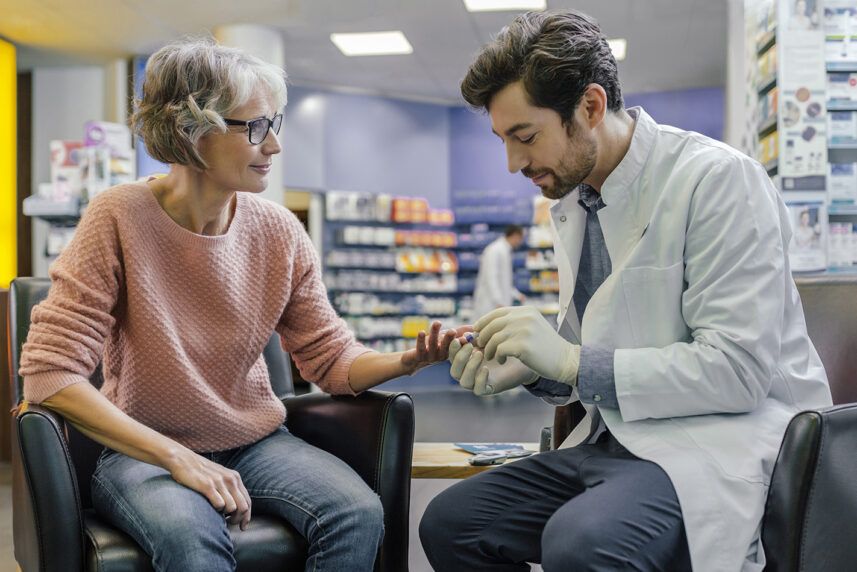 Your local pharmacist isn't simply a medication dispenser. This health professional can help you stay on top of your health with important screening tests, too.
Updated on
October 1, 2021
Few people really understand how their pharmacist can help them. Those working the medicine counter at your local drugstore are health care providers. They're also among the most accessible health professionals in the U.S. That makes them excellent resources for basic medical screenings.
Of course, you can't go to the pharmacy for complex tests such as biopsies. For those, you'll need a doctor. But for many simpler tests, the pharmacist can save you a trip to the doctor's office. These screenings can also help you manage chronic conditions or catch little problems before they become big.
Research shows that patients who keep close relationships with pharmacists have better health outcomes. One of these studies was published in the journal Innovations in Pharmacy. In it, 15,000 people with diabetes, high cholesterol or high blood pressure were assigned to work with a pharmacist. They received medication management, 1-on-1 education and follow-up visits between doctor's appointments. As a result, their health improved significantly.
Subjects with high cholesterol, for instance, decreased their "bad" cholesterol (LDL) by an average of 16 points. And thanks to early detection and better health maintenance, the study's participants cut their health care costs by about 25%.
When it comes to saving money, Optum Perks is another great resource. Our free mobile app allows you to search for discounts on prescription medications.
To help you understand the screenings you can get at the pharmacy, we spoke with Theresa Tolle, PharmB, owner of Bay Street Pharmacy in Sebastian, Florida. She's also president-elect of the American Pharmacists Association. Here, she explains how your pharmacist can help keep you healthy between doctor visits.
What are some screenings people should consider having done at the pharmacy?
Tolle: Let's start with a glucose test. This is an easy one: A quick finger prick done by your pharmacist can tell you if your blood sugar levels are within the normal range. That's helpful information if you're worried about your risk of type 2 diabetes.
For glucose testing, there are 2 main options: a simple glucose test that measures the level of sugar in your blood, and an A1C test, which also offers a snapshot of your average glucose levels over the past 3 months. The former is usually free; the latter may cost around $25 out of pocket. For both, results come back within several minutes. Afterward, your pharmacist will spend time explaining your results.
Another common screening you can consider is a blood pressure test. You've probably seen a large blood pressure-monitoring kiosk at a retail pharmacy. That's the kind where you insert your arm into the automatically inflating cuff. Those might not be properly calibrated due to hundreds of customers using it (and kids playing with it).
So instead, I recommend asking your pharmacist to perform a traditional test using a cuff and stethoscope, just like at your doctor's office.
Can blood tests also be performed?
Tolle: Yes. We can do lipid panels with a finger-stick test. These yield valuable information about your cardiovascular health. We can look at total cholesterol, HDL and LDL cholesterol, and triglycerides. It takes about 5 minutes to get your results. [In addition to screenings, you can also get vaccines at the pharmacy.]
These tests are valuable, because in addition to the results, the pharmacist will give you the educational material you need to understand them. We can also recommend over-the-counter products that may help, such as fish oil supplements for heart health. And we can refer you to a physician if any of your numbers are concerning. The charge for this test is usually $20 to $30.
National Depression Screening Day is in October. How can a pharmacist help with mental health?
Tolle: Your pharmacist can help you determine whether it's time to seek help by asking you a series of questions. These are part of tests called the PHQ-2 and PHQ-9. [PHQ stands for patient health questionnaire.]
Free prescription coupons
Seriously … free. Explore prices that beat the competition 70% of the time.
Get free card
The PHQ-2 is just 2 questions, but they are telling. "Over the last 2 weeks, how often have you been bothered by the following problems — 1. having little interest or pleasure in doing things, or 2. feeling down, depressed or hopeless?"
Your answer offers a clue as to whether you may be struggling with depression. If so, your pharmacist can proceed to the PHQ-9, which includes 7 additional questions that help determine how severe your depression may be. [Discover the other ways your pharmacist can support your mental health.]
A quick screen like this can be surprisingly effective in motivating a patient to seek additional help. We can provide referrals for local mental health providers, including free clinics. And if a patient is already on an antidepressant medication, we can inquire about how they're feeling, make sure they're taking it properly and offer suggestions for possible improvements.
Even though depression is common — about 7% of the U.S. population will experience it in any given year — there is still a stigma surrounding it. That could make a pharmacy screening even more appealing. There's a certain anonymity to it, because you're not sitting in a doctor's office.
[If you prefer to receive mental health care at home, Optum Store can provide virtual access to therapists and medication prescribers.]
Any other screenings we should know about?
Tolle: COVID-19 tests are very common now. And in several states, your pharmacist can perform a throat swab to test for strep throat or a nasal swab for influenza. The testing is done on site, and results come back while you wait. If positive, your pharmacist may be able to prescribe medication to help treat these conditions, no doctor's appointment needed.
Charges vary, but you can expect to pay between $25 and $125 for a strep or flu test at your pharmacy. If you have Medicare, these tests may be billed under your Part B plan. They may also be covered by Medicaid, or you can submit them to a private insurance plan for reimbursement.
Pharmacists can also administer Medicare's annual wellness visits, a yearly visit for Medicare Part B members under a collaborative agreement with a provider. These are often performed in the provider's office. With this visit, a pharmacist can help you develop a personalized illness prevention plan.
This yearly no-cost visit may include a weight and blood pressure check, an update of your personal and family medical history, and counseling on current chronic conditions. In addition, we can review any health goals you may have, provide a screening for cognitive issues and more.
One study showed that when pharmacists conduct annual wellness visits, they are more likely to order lab tests than physicians. That could help reveal valuable medical information and help diagnose problems early. 
For all these screenings and tests, you can call ahead to see if you need an appointment. In some cases, you may be able to just walk right in.
[It's always smart to carry the free Optum Perks discount card with you to the pharmacy. Just show it to the pharmacist at checkout to get a discount on your prescription medication.]