How to trick yourself into exercising every day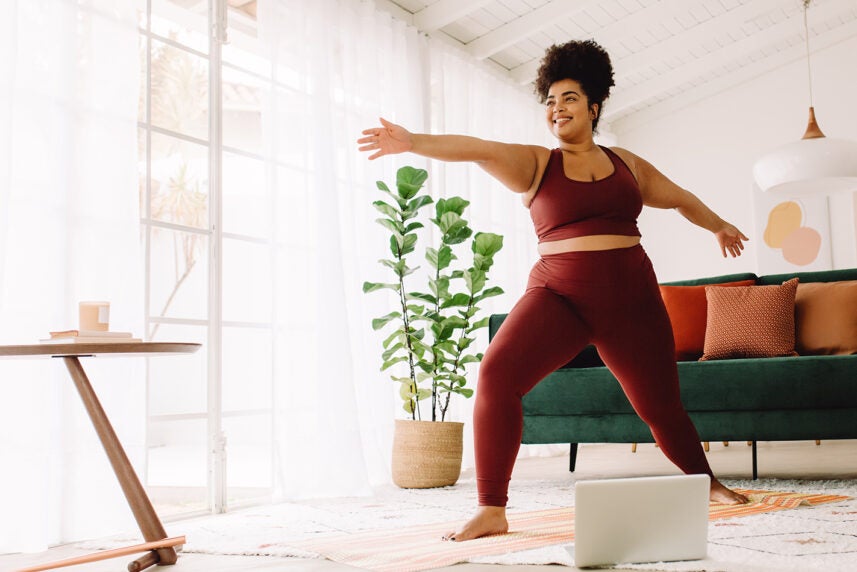 Hint: It's all about making your workout a multisensory experience.
When you're eyeing the clock during a workout, the seconds can seem to drag on. Heck, even making it to the 1-minute mark can feel like torture. And if you manage to tough it out, you might think to yourself: "There's no way I'm going to do this all over again tomorrow."
You know daily exercise is good for you. You know how much you need: The Centers for Disease Control and Prevention (CDC) recommends a minimum of 150 minutes of cardio plus strength training each week. Maybe you've even tried to make it a habit. But it never stuck … until now.
A recent study from the Journal of Motor Learning and Development discovered that people found it significantly easier to run on a treadmill while watching a basketball game on TV. And it wasn't just mental. They also had lower levels of lactic acid, a compound thought to make muscles burn. Translation: Their workout was easier, both physically and mentally.
"Deliberate focus on something else [besides your workout] takes away 'cognitive appraisal,'" says Justin Ross, PsyD. He's a licensed clinical psychologist in Denver. "That's essentially the narrative or self-talk you have about what you're experiencing."
That means you don't fully experience the painful and boring parts of your workout. And here's the thing: You don't have to be a basketball fan to get the benefit. There are tons of ways you can use this trick to make your own workouts easier.
(When you're making healthy habit changes, the last thing you want is to be bogged down by high medication costs. Use this free card to find prescription savings of up to 80%.)
How to make exercise easier (and more enjoyable)
Distraction is the key to making workouts easier. But you'll likely need more than just a bumpin' playlist to keep your eyes off the clock.
"Single sensory things such as podcasts and music aren't going to work as well," Ross explains. "The general idea is: The more multisensory you can get [with what you're focusing on], the better. That's why watching a sports game on TV is helpful. You're occupying your visual centers and your sound centers. You have to pay attention to what you see and what you hear."
Recommended reading: How to tell if your workout is making your heart stronger.
How to create the right workout distraction
One of the most natural ways to keep your eyes and ears busy during exercise is to take your workout outside. As you walk, bike or rollerblade, you can watch the world moving by you and listen to the sounds of your surrounding environment.
Here are a few other ideas to get you started:
Sign up for an in-person or virtual workout class. You could try Zumba, yoga or a boot camp class.
Enlist a friend to work out with you. Shooting the breeze makes for a great distraction. (Check out the other health benefits of talking to a friend.)
Create a Peloton-style experience. You don't necessarily need an expensive exercise bike or treadmill to take part in a Peloton fitness class. You just need the Peloton app (currently $12.99 per month). Apps such as Zwift also allow you to turn your cycling or running session into a game or social event.
Do you prefer to watch TV while you run or ride indoors? Turn on one of the following during your workout:
A sports game you're looking forward to. You can time your workout to coincide with kickoff, tee-off or tipoff.
A guilty-pleasure TV show. Save it for when you need extra motivation to get on the machine. (There's plenty of Grey's Anatomy and NCIS to go around.)
A new movie you've wanted to watch. Movies can be lengthy. Why not split it up over a few workouts. Then there's more to look forward to.
A lot of us spend all day staring at screens. So if you want your exercise time to be tech-free, take a page out of Ross' book. His personal strategy: Divide your workouts into different exertion levels.
"Instead of going at 1 pace for the entire time, break it up with different effort levels," Ross says. For example, you can go easy for 1 minute and then go hard the next. "It will not only change the physical experience but also your relationship with time," adds Ross.
Save up to 80% on your medications
Get prescriptions for as low as $4 with our free discount card, redeemable at over 64,000 pharmacies nationwide.
Get free card
The bottom line: Pick a strategy you love
Engaging in a multisensory experience should help distract you from counting down the seconds until your workout is done. But if you're tempted to watch the clock, cover it up with a towel. It will help your workout go by faster if you're not focused on time.
And finally, aim for a crave-worthy distraction. Ross advises: "It needs to be engrossing. It needs to be something that you're interested in. If you're not interested in it, it's not going to work."
Think of your workout as a time to have some fun, whether that's talking with a friend, tuning into a game or taking an exercise class. Before you know it, it'll be the next day. And you'll be back for more.
Don't forget to download our free mobile app. Use it to find prescription medication discounts and share savings with loved ones. Here's how Optum Perks works.