How to save money on therapeutic massage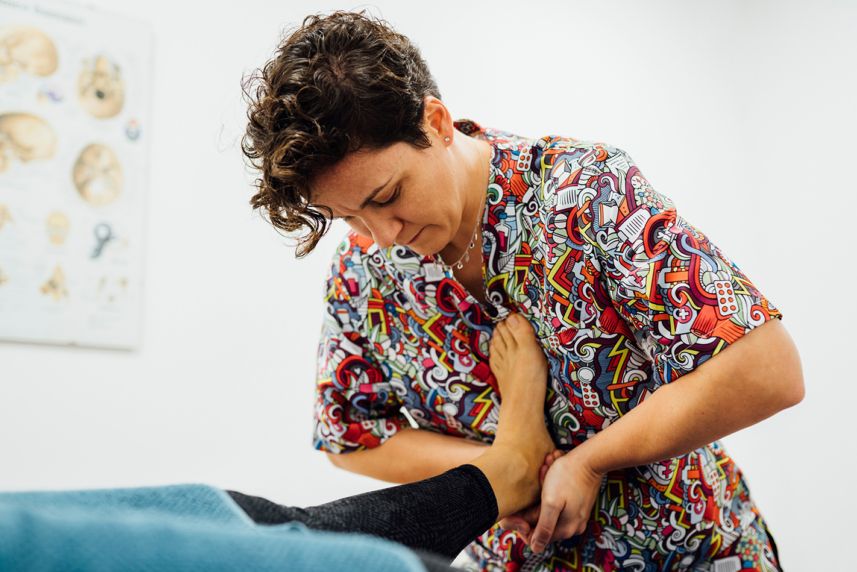 When you live with pain, affording the care you need shouldn't be an added stressor. Here's how to find discounts and increase your likelihood of insurance approval.
Updated on
August 12, 2021
For many people, a massage isn't just a way to relax. It's a science-backed way to get relief from long-lasting aches and pains.
An estimated 50 million Americans live with chronic pain from an illness or injury. For them, therapeutic massages can be a lifeline. Studies have shown that massages can improve pain, anxiety and depression in people with fibromyalgia. And massages can soothe knee discomfort in those with osteoarthritis. They may also have benefits for those with other conditions, such as neck and shoulder pain, and plantar fasciitis. (Are you dealing with depression? We answer your top questions here.)
Therapeutic massage is any style of massage that works the soft tissues of the body, such as the skin, muscles and tendons. It's not a replacement for regular medical care. But it may help reduce discomfort and soreness and improve circulation, according to the Mayo Clinic.
The downside: It can be expensive, and many insurance plans don't cover it.
Here, we'll share tips on how to get therapeutic massages covered by insurance — and how to save money if insurance isn't an option.
How to get therapeutic massages covered by insurance
For a massage to be covered by insurance, your best bet is to get a prescription or referral from your doctor. Even then, the insurance company doesn't have to agree to pay for it. Medicare, for example, doesn't cover massage therapy at all, so you would have to pay for 100% of the costs.
With other types of insurance, it's well worth seeing if your insurance company will foot the bill. For example, it could be covered under an Affordable Care Act plan. Sometimes the easiest way to find out is simply to call your insurance provider and ask. That's also a good time to ask them how much might be covered, to avoid any surprises. (Optum Perks helps you avoid surprise costs at the pharmacy counter. Download our app to get started.)
"The best way is to have a prescription from your physician," says Robin B. Anderson. She's a licensed massage therapist and president of the Massage Therapy Foundation. "It may be covered similarly to some other health procedures. If it's deemed medically needed, then some coverage could be provided."
A 2018 study out of Rutgers University looked at how 7 insurance companies handled reimbursements for massage therapy. The analysis found that:
19% covered massage therapy as part of a rehabilitation plan
23% of companies limited therapy to 15-minute sessions
27% required a doctor's prescription
27% said massage therapists weren't covered providers. But other providers, such as physical therapists, could directly bill for massage services.
If your insurance policy doesn't cover therapeutic massage, don't give up just yet. Here are some other money-saving options to consider.
Look into HSAs and FSAs
There are a couple of medical-related acronyms that could save you money on massage therapy: Health Savings Accounts (HSA) and Flexible Savings Accounts (FSAs).
An HSA is a savings account you can use if you have a high-deductible insurance plan. It lets you put aside pre-tax money for medical expenses.
"Some employers offer an HSA that can be used for wellness expenses," Anderson says. And that may include gym memberships and massage therapy.
An FSA, meanwhile, is an account offered as part of an employer-sponsored health insurance plan. It lets you set aside pre-tax money for certain medical expenses. That could include therapeutic massage. To qualify, you might need to get a letter of medical necessity.
According to the Internal Revenue Service, therapy that you receive as part of a medical treatment may qualify for HSA or FSA reimbursement.
(Did you know that you can combine coupons from Optum Perks with your HSA or FSA to save even more on your prescriptions? Get your free discount card today.)
Free prescription coupons
Seriously … free. Explore prices that beat the competition 70% of the time.
Get free card
Seek out discounts
Coupons aren't your only options for saving on massage. Some massage franchises sell monthly memberships that offer massages at discounted prices, Anderson says. You may also be able to participate in research studies on the benefits of therapeutic massage for free, she adds.
Contact massage schools
Depending on your medical needs, reaching out to a local massage therapy school program could be a great way to save money. Many schools offer heavily discounted massages to allow their students to get real-life training. The massages are overseen by professional massage therapists. But Anderson says it's important to keep in mind that "students in entry-level training may not be experienced enough to treat some complex issues."
Still, it could be worth a try for overall wellness and general pain issues. Because when pain messes with your quality of life, you want to do everything you can to find relief.
Lack of coverage shouldn't stop you from saving money on your prescriptions. Download the Optum Perks app to start saving up to 80% on your medications.