A new solution for genetic obesity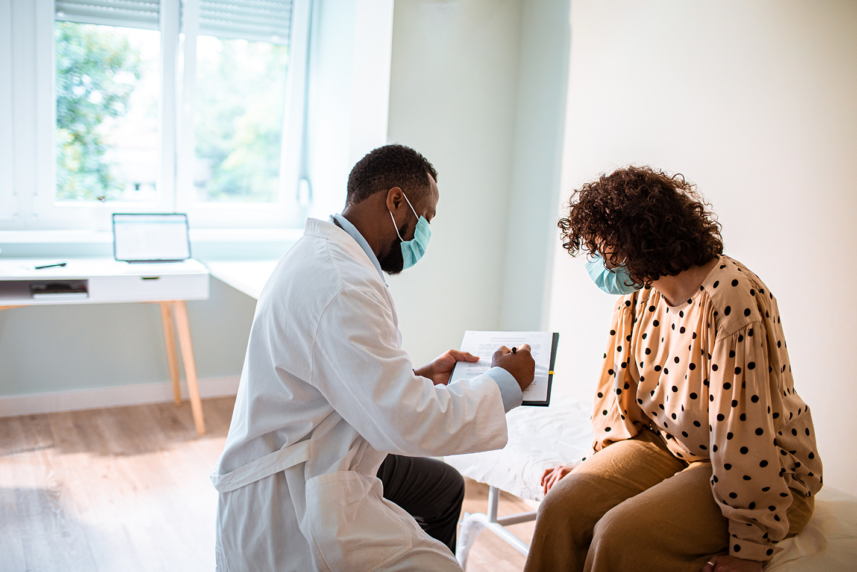 For some people, diet and exercise alone will never cut it. Learn about the genetic factors involved in obesity, and the treatment options out there. 
Let's get something out of the way: Obesity is a medical condition. If you have it, you need to stop blaming yourself. In fact, certain types of obesity are driven by genes. That means no matter how disciplined you are, diet and exercise (still essential) will never get you to a healthier weight on their own.
That's where medication can come in, and now there's an exciting new option on the market. It's called setmelanotide (Imcivree®). The U.S. Food and Drug Administration approved it late last year.
Imcivree can help some people control obesity. It's not a general-purpose weight-loss medication but instead treats rare genetic disorders. As a result, it can control appetite and improve the body's ability to use energy.
A small study in the journal The Lancet found that this drug could lead to significant weight loss in people with 1 of 3 genetic deficiencies. The names are a mouthful: pro-opiomelanocortin (POMC), proprotein subtilisin/kexin type 1 (PCSK1) and leptin receptor (LEPR).
People with these genetic factors were divided into 2 groups and given the drug. In the first group (LEPR), 45% of people lost at least 10% of their body weight. In the second (POMC/PCSK1), that success jumped to 80% of participants. Both groups had less hunger.
Take those numbers with a grain of salt, since just 21 people participated. Still, the numbers pointed in the right direction, and that's a promising result.
Here's another promise: Optum Perks helps you pay less for your medications. Download our app to access thousands of coupons you can use at pharmacies nationwide.
The genetics of obesity
"Obesity clearly runs in families," says Marcelo Correia, MD, PhD. He's a clinical assistant professor of internal medicine at the University of Iowa Roy J. and Lucille A. Carver College of Medicine. Yes, diet and lifestyle are important, says Dr. Correia. But genetics can make weight loss very hard for some people.
According to estimates from the Obesity Medicine Association, at least 50 genes control obesity. And these genes are directly responsible in 40% to 70% of obesity cases.
Doctors consider you obese if you have a BMI (body mass index) of 30 or higher. "Overweight" is a BMI between 25 and 29.9, and "normal" is 18.5 to 24.9. (Here's how to find your BMI.)
About 40% of Americans qualify as obese. And that number is rising. By 2030, half of us will have BMIs over 30, according to research in the New England Journal of Medicine.
The real problem with obesity is its connection with other long-term problems, such as diabetes, hypertension and stroke risk. But the fix isn't always as simple as eating less and moving more.
Genetic obesity falls into 2 categories, says Dr. Correia.
Monogenic obesity. This is caused by a mutation in a single gene. That's the case with the 3 deficiencies noted above, which Imcivree treats. Most people go many years, and sometimes their whole lives, without being diagnosed.
Polygenic obesity. With this type, a complicated array of genetic traits interact with an environment and/or lifestyle that promotes weight gain.
Medications such as Imcivree do more than help with treatment, says Dr. Correia. They might also help lead to a proper diagnosis. Once there's a solution, doctors are more likely to look for the problem. "There are genetic tests you can do to check for these mutations," Dr. Correia says. "This medication has the potential to change the way we do bariatric medicine in adults."
Other obesity medications
Imcivree isn't alone. The FDA has approved a handful of anti-obesity medications (AOMs) for people with BMIs over 30.
Patients who begin using AOMs generally lose about 10% of their starting weight, according to the U.S. Department of Health and Human Services. That can have a big impact on blood sugar, blood pressure and triglycerides.
Approved long-term AOMs include:
Paying full-price for medication can be difficult. To save money on AOMs, download our discount card now or click each drug name to access coupons instantly.

It's important to note that all weight-loss medications are designed to work alongside exercise and a healthy diet. "Lifestyle modifications are still the cornerstone of obesity treatment," Dr. Correia says.
The National Weight Control Registry tracks habits of 10,000-plus Americans who have lost 30 pounds or more and kept the weight off for a year or longer. Here's what those people have in common:
They move more. In fact, 9 out of 10 exercise for an hour a day, on average.
They start eating healthier, often focusing on a calorie-controlled diet.
They hold themselves accountable in some way. The most common methods are food journals and weekly weigh-ins.
They watch less than10 hours of TV a week.
Still, with lifestyle changes alone, the results don't always stick. About 90% of people who lose weight with diet and exercise eventually gain most of it back, according to a recent article by the dean of the University of Michigan Medical School.
Save up to 80% on your medications
Get prescriptions for as low as $4 with our free discount card, redeemable at over 64,000 pharmacies nationwide.
Get free card
Other obesity treatments
People with genetic obesity often don't respond as well to diet and exercise upgrades. So if medication doesn't work, surgery could be the next step. This is the most expensive and dramatic of the options, says Dr. Correia.

The American Society for Metabolic and Bariatric Surgery recommends surgery only for certain people, such as those whose BMI is over 40. People with a BMI over 35 and also an obesity-related disease such as type 2 diabetes, high blood pressure or sleep apnea may also qualify.
Dr. Correia prefers to try medication first. He makes exceptions for people who need to lose weight for another surgery, such as a hip replacement or heart transplant. He also considers patients with BMIs over 45 or those with serious health conditions that are poorly controlled. "Then we skip medicines and go straight to surgery," he says.
Surgery tends to work very well. For that reason, insurance may cover part of the cost. The most common obesity surgeries include:
Gastric banding (Lap-Band®). A silicone band wraps around the top of the stomach, so you need less food to feel full. It's reversible, but it tends to have more complications than other surgeries. That's why many U.S. surgical centers no longer perform it.
Gastric bypass. The surgeon creates a pouch above the stomach and connects it directly to the small intestine. As a result, fewer calories and nutrients are absorbed. Appetite-related hormones may also change, so you feel satisfied earlier in a meal.
Sleeve gastrectomy (gastric sleeve). In this operation, about 80% of the stomach is removed. What remains is a chute the size of a medium banana. It limits how much food you can eat at one time. Hunger hormones are also impacted.
Surgery for obesity can bring many of the same benefits as natural weight loss. According to the Cleveland Clinic, it can improve cardiovascular health, boost fertility and reduce blood sugar. It might also reduce feelings of depression, improve joint pain and lead to better sleep. Most important, says Dr. Correia, it "may reduce mortality." In other words, it can save lives.
Everybody's weight loss journey is different. If diet and exercise aren't working, your genes may explain why. Work with your doctor to find a treatment plan that works.
Download the Optum Perks mobile app. Available for both iOS and Android phones, it can help you save money on all your prescription needs.