7 easy kitchen tips that will make you love vegetables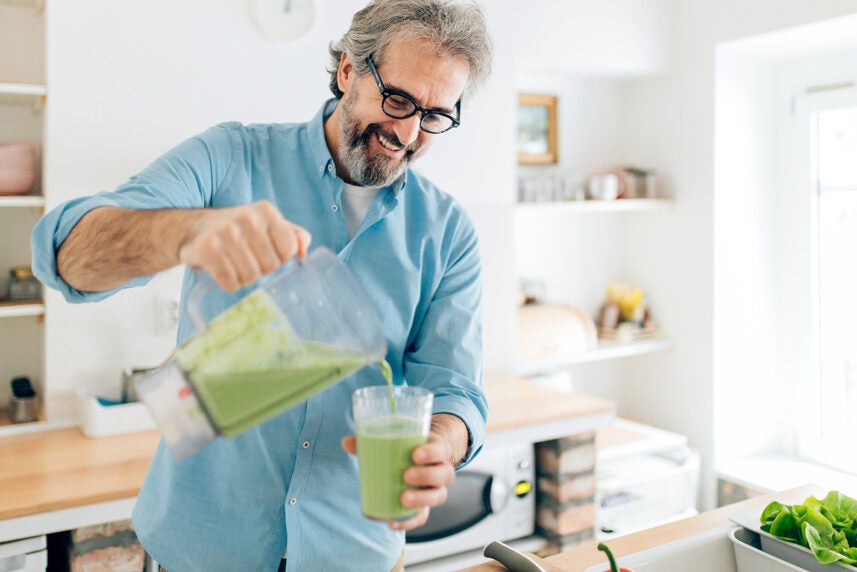 Fire up the oven, break out the spices and get ready to amp up the flavor of your health-boosting plant foods.
Updated on
March 15, 2022
The sun is shining, the birds are singing, the days are longer. You know what that means: Spring is here. And with it comes its bounty. Grocery stores and farmers markets will soon be overflowing with crisp, brightly colored fruits and vegetables.
While you can definitely enjoy produce year-round, now is a great time to indulge in your fresh (or freshly frozen) favorites.
Not only are vegetables jam-packed with nutrients, they can even lower your risk of heart disease and certain cancers. But unfortunately, Americans are eating fewer veggies these days.
A 2020 report from the nonprofit Produce for Better Health Foundation found that 9 in 10 Americans don't eat enough fruits and vegetables. What's worse, veggie consumption has dropped 16% since 2004, including 4% in the past 5 years, according to the report.
The U.S. Department of Agriculture recommends that adults eat 2 to 4 cups of vegetables per day. And you can work toward that goal by adding a little produce to every meal.
"Look for a way to add a vegetable to your lunch or dinner," suggests Carolyn Williams, PhD. She's a registered dietitian and the author of Meals That Heal: 100+ Anti-Inflammatory Recipes in 30 Minutes or Less. After all, some is better than none. "We tend to look at food intake as all or nothing, but increasing the amount of veggies you eat will help your health even if it's not perfect," Williams adds.
Even with diet improvements, you might still occasionally need medication. See how Optum Perks can help you save money.
Now, if you're ready to take on more vegetables but not so in love with the flavor, you might just need a new approach to cooking. Here are 7 kitchen tips to help you get more veggies on your plate.
Veggie hack #1: Add a little fat
Although it's probably delicious, drowning your veggies in butter isn't the best idea. (Butter is high in saturated fat, which has been linked with high cholesterol.) But that doesn't mean you can't flavor your veggies in a bit of fat.
In fact, adding fat to your veggies can actually help your body absorb some of the nutrients that are found in plants, Williams says. "You can steam vegetables and then use a tiny bit of butter or toss them in a little olive oil after they've cooked with a little bit of herbs," she says.
And when in doubt, add a touch of cheese. A bit of grated parmesan or a sprinkle of cheddar can amp up the flavor of any veggie side dish.
Veggie hack #2: Spice things up
If munching on plain baby carrots or cucumber slices just isn't doing it for you, it's time to toss in some fresh herbs or spices. Fresh varieties are great if they're in your budget. But dried spices and herbs will still give you a great pop of flavor.
Feel free to experiment and see what tastes good to your palate. Add a little, taste it and see what you think. You can add more of the same, or try layering it with other herbs and spices, too. Here are some to-die-for duos to try:
Roasted carrots + dill
Cooked or raw tomatoes + basil
Sauteed cauliflower + coriander
Stir-fried brussels sprouts + garlic
Grilled corn + cilantro
Raw cucumber + mint
Baked sweet potato + thyme
Veggie hack #3: Spritz with citrus
Some vegetables have a strong and assertive flavor. Bitter greens are a good example. Eaten on their own, bitter greens such as kale, arugula, collards and broccoli rabe can have a bite.
Although the compounds that give them their bitterness also give them many of their health benefits, the flavor can definitely be tamed. A squeeze of citrus such as lemon or lime is a great way to bring out the natural flavor of vegetables and cut back on any bitterness, says registered dietitian Kimberly Gomer. She's director of nutrition at Pritikin Longevity Center & Spa in Miami.

Related reading: The newbie's guide to the DASH diet.
Save up to 80% on your medications
Get prescriptions for as low as $4 with our free discount card, redeemable at over 64,000 pharmacies nationwide.
Get free card
Veggie hack #4: Befriend your blender
If you're not a big fan of eating your veggies — or you're just crunched for time — drinking your veggies works, too. Toss some spinach into a blender with a little fruit for sweetness. You can use this to add vegetables to your kids' diet, too. They won't even know they're drinking greens, Williams says.
Bonus: It's a great way to sneak in healthful fruit such as berries, bananas or apples.
Veggie hack #5: Experiment with cooking techniques
How you cook your vegetables can make all the difference in how they taste. Roasting vegetables is one of the best methods because "it brings out the natural sugars in vegetables and caramelizes them," Williams says.
Plus, it's super easy. Toss your veggies with a little oil and some herbs and spices, put them on a sheet pan, and pop them in the oven at 400° to 450° F. The hotter the oven, the faster they'll cook and the more brown and crunchy they'll be.
You can also blanch veggies by boiling them for a couple of minutes and then dunking them in an ice-water bath — for crispy, bright veggies with less bitterness. If you like your veggies soft and flavorful, whip up some chili or soup in a slow cooker or Instant Pot.
Veggie hack #6: Toss them into other dishes
Many people eat their veggies as a side or in a salad, but you can also get your daily servings by adding them to soups, stews, sandwiches, wraps, omelets or scrambled eggs. "I love making soups and stews," says Gomer. "Loading chicken soup with carrots, celery, onions, parsnips, zucchini, fresh dill and parsley is an awesome way to eat veggies."
Williams' go-to pick is baby spinach. "It's so versatile," she says. You can add it to just about anything. Toss some spinach into soups and stews, wilt it in a pasta dish, or add a handful to your typical sandwich fixings.
Veggie hack #7: Think snackable
Vegetables are most often eaten as part of dinner, with only 6% of veggies being eaten as a snack. Quite simply, that's a missed opportunity. Baby carrots or sliced peppers are terrific for dipping into guacamole or hummus. You can also smear peanut butter on celery sticks with a sprinkle of raisins to make the classic "ants on a log."
It's a good idea to eat a variety of vegetables, since they all provide different nutrients. The easiest way to do that is to eat multiple colors and more than one veggie at a time. And remember, if you don't like brussels sprouts or kale, you don't have to eat them — there are plenty more veggies in the garden.
Gomer encourages you to get creative in the kitchen. "The internet has literally thousands of recipes you can access for free," she says. With a little bit of planning, you'll be on your way to making small and steady changes that will add up to big results for your health — and your family's.
Another small change that can have a big impact: downloading our free prescription discount app. It can help you find deals on the medications you need most.
Additional source
Data on American fruit and vegetable consumption: Produce for Better Health Foundation