What ex-smokers need to know about preventing lung cancer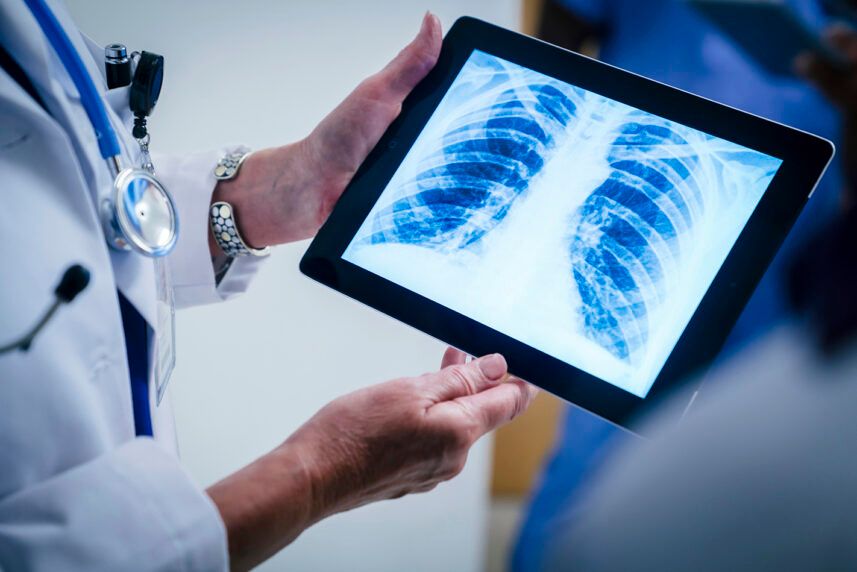 Cigarettes from the past can increase your risk of lung cancer. Here's what you should know about prevention and early detection.
Updated on
November 4, 2021
If you smoke, there's nothing better you can do for your health than quitting right now. You'll breathe more easily, your blood pressure will go down and your odds of having a heart attack will drop. Plus, quitting smoking dramatically reduces your risk of lung cancer, which is the leading cause of cancer death in the U.S., according to the American Cancer Society (ACS).
But what if you've already quit smoking? Does that put you in the clear? Well, not entirely. Here's what every former smoker should know about lung cancer — and how to help prevent it.
(Have you downloaded the Optum Perks mobile app? If not, why not? It's free, and it gives you access to discounts of up to 80% on prescription medications.)
The challenge for former smokers
While kicking the habit works wonders for your lungs (here's how to quit), you can't fully escape your past.
"The carcinogens in tobacco smoke get into your cells and can alter your DNA," says pulmonologist Frank Coletta, MD. He's the director of critical care medicine at Mount Sinai South Nassau in Oceanside, New York. "Then one day those cells can start to reproduce uncontrollably, resulting in cancer — and thus affecting people who've already quit smoking."
As a result, a former smoker's risk of lung cancer will always be higher than for someone who never lit up. For those who used to smoke heavily, the lung cancer risk is 3 times higher than it is for people who never smoked, according to a 2018 study. That's true even 25 years after heavy smokers quit.
What former smokers can do
In addition to quitting smoking, regular lung cancer screenings are the best thing you can do to reduce your risk of cancer death, says pulmonologist James Finigan, MD. He's the medical director of the lung cancer screening program at National Jewish Health in Denver.
Screening is important because it enables your doctor to spot signs of lung cancer in its early stages. They can do this before you even begin to have symptoms, when treatment is most likely to be successful.
Data collected by the American Lung Association (ALA) shows that the 5-year survival rate for lung cancer is 56%, but only when the cancer is contained to the lungs. If it spreads, the rate drops to 5%. Unfortunately, only about 1 in 6 cases are caught in an early stage, according to the ALA.
That's why screening is important. The procedure involves a noninvasive imaging test called low-dose computed tomography (LDCT, or a CT scan).
This tool isn't perfect. In some cases, it may produce false positives, for example. That means that something that looks suspicious on the LDCT test turns out to be harmless. In such cases, you may go through unnecessary follow-up tests and experience anxiety before learning that you're okay.
The test also uses a small amount of radiation. But this presents a tiny risk compared to the risk of missing an early lung cancer diagnosis, says Dr. Finigan.
How often should former smokers be screened?
For people with a high risk of lung cancer, the ACS recommends yearly screenings. The group says this can significantly reduce your risk of dying from lung cancer.
But this doesn't include all former smokers. Guidelines published in 2021 by the U.S. Preventive Services Task Force recommends annual screenings for people who meet all these criteria:
You are 50 to 80 years old.
You have a 20-pack-year history of smoking. (A pack-year is a calculation based on how many cigarettes you smoked on a daily basis and for how many years. For example, if you smoked 2 packs a day for 10 years, that's equal to smoking a pack a day for 20 years, so you have a 20-pack-year history of smoking.)
You currently smoke or have quit within the past 15 years.
If you're a former smoker who doesn't meet those criteria, you should still talk to your doctor about screenings. He or she can help create a screening schedule that makes sense.
The good news: Lung cancer screenings are covered by Medicare and most private insurance plans, according to the ALA. (Need help understanding your insurance? Check out this guide to deductibles, copays and more.)
Free prescription coupons
Seriously … free. Explore prices that beat the competition 70% of the time.
Get free card
What else can you do?
First, exercise daily. A 2016 review of 25 studies found that compared to former smokers who were physically inactive, those who were most active were 32% less likely to develop lung cancer.
Second, protect your lungs from further damage. "Avoid secondhand, or passive, smoke," says Dr. Coletta. "And if you work in a job that involves carcinogenic fumes, wear the proper protective gear," such as an N95 respirator.
Finally, pay attention to your health and be aware of signs that something might be wrong. "The classic symptoms of lung cancer are a cough, coughing up blood and unexplained weight loss," says Dr. Finigan.
Ideally, you should focus on detecting lung cancer before symptoms occur. But if you see signs of trouble, visit your doctor immediately.
Don't forget to let Optum Perks help you out at the pharmacy. After you download our free discount card, just show it at checkout. You may be able to save up to 80% on your prescription medication.