STIs are on the rise. Here's what you need to know.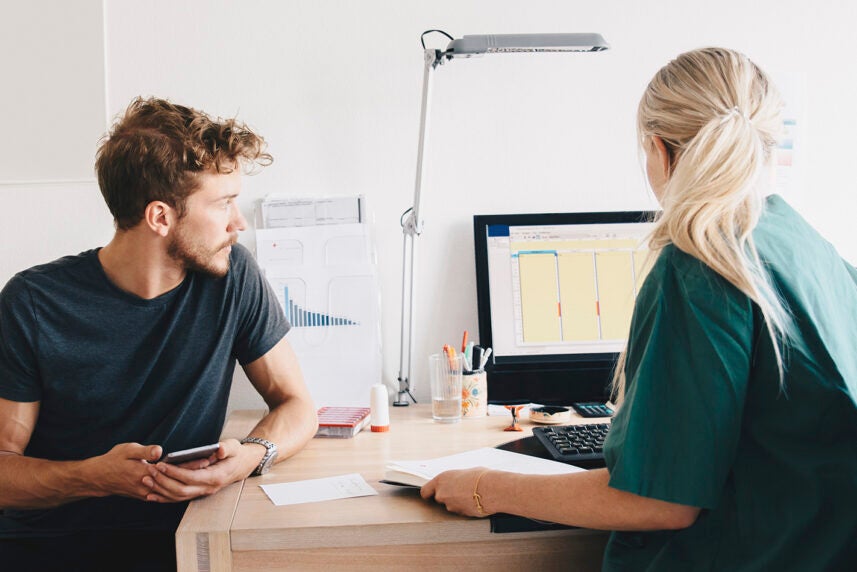 Regular screenings and a few key safe practices can help keep you and your partner safe.
A lot of steps have been taken to keep us apart during the COVID-19 pandemic. One-way grocery aisles, lockdowns and a slew of canceled events, to name a few. So you may be surprised to hear that cases of sexually transmitted infections (STIs) are on the rise.
You might be thinking: "Wait, how can that be?" As it turns out, the story of soaring STI cases is complicated.
"The pandemic contributed to massive disruptions in testing, surveillance and clinical care for STIs," says David C. Harvey. He's the executive director of the National Coalition of STD Directors in Washington, D.C.
When the first stay-at-home orders went into effect, the number of STIs dropped steeply, according to the Centers for Disease Control and Prevention (CDC). This isn't shocking given that people were socially distancing, many clinics had limited hours, and STI testing kits were in short supply, says Ina Park, MD. She's a professor at the University of California San Francisco School of Medicine and author of Strange Bedfellows: Adventures in the Science, History, and Surprising Secrets of STDs.
But cases of gonorrhea and syphilis surged later in 2020. By early December, weekly STI cases were at 101% (chlamydia), 135% (gonorrhea) and 151% (syphilis) of their 2019 levels. (If you're on prescription medication to treat an STI or another condition, download our discount mobile app. It has coupons for up to 80% off.)
The trend of increasing STIs isn't new, though. STI cases reached an all-time high in 2019 for the sixth year in a row, with 2.5 million infections. Between 2015 and 2019, STI cases grew by 30%.
Why are STIs on the rise?
There's no single culprit. Reasons include funding cutbacks for STI prevention, people not getting tested because they don't show any symptoms, and doctors not asking about their patients' sexual histories, Harvey says.
The rise of dating apps has also made it easier for people to connect and have sex, Dr. Park says.
Other major factors (some made worse by the pandemic) include:
Less staffing for STI initiatives. Since early 2020, many state and local health departments have been focused on COVID-19 efforts. This may have affected tracking and reporting of STIs.
Limited screening and testing. Clinics have been operating with reduced hours, and STI testing kits have been hard to find since the start of the pandemic. STI screenings dropped by 40% between February and April 2020, according to a study in the American Journal of Preventive Medicine. It also estimated that nearly 28,000 chlamydia infections may have gone unreported between March and June 2020 due to reduced testing.
Drop in condom use. Between 2009 and 2019, condom use among high school students fell by a whopping 61%, the CDC estimates. This could be due to many factors, including changes in sex education.
What can you do to protect yourself?
Technically, there's no such thing as 100% safe sex, Dr. Park says. There's just safer sex. Taking a few key steps to protect yourself and your sexual partners can make a big difference.
The best advice is to use barriers such as condoms or dental dams for sex, Dr. Park says. (Find great prices on condoms at the Optum Store.)
External latex or plastic condoms are very effective at protecting against most STIs — particularly the STIs that are shared through fluids such as gonorrhea, chlamydia and HIV infection. But condoms are effective only if they're used correctly. That means wearing one the whole time you're having sex.
To best protect yourself, Dr. Park also recommends you:
Reduce your number of sexual partners.
Aim for 1 partner at a time rather than going back and forth between multiple partners.
Test yourself for STIs even when you're not sexually active.
Related: Can you pass this sexual health quiz?
Save up to 80% on your medications
Get prescriptions for as low as $4 with our free discount card, redeemable at over 64,000 pharmacies nationwide.
Get free card
When and how to get tested for an STI
Many STIs don't show symptoms, especially in the early stages. So you may not have a clue that you — or someone else — has been infected. That's why regular testing, whether you have symptoms or not, is important.
In general, the CDC recommends that anyone who is sexually active with new (or multiple) partners, or with a partner who has an STI, get tested at least once a year. It also urges everyone between the ages of 13 and 64 get screened for HIV at least once in their life. If you're pregnant, your doctor may also screen you for syphilis, HIV, hepatitis B and hepatitis C as part of your normal workup.
Long-term planning isn't a strong suit of many young adults. Yet it's important to start good screening habits early. In fact, young people between the ages of 15 and 24 account for over half of all STI cases, according to the CDC.
A good starting point is your primary care doctor. Being open about your sex life can be hard, but trust us: They've heard it all before. And it's the best way to know what kind of testing is right for you.
Many local organizations and health departments also offer free or low-cost STI testing. Find in-person and mail-order STI resources in your area.
It's important to remember that if you test positive for an STI, you're not alone and you don't need to be embarrassed, Dr. Park says.
"STIs happen to almost everyone. In fact, half of us will get one by age 25," she says. That includes the human papillomavirus (HPV), which is the most common STI. "If we can normalize the fact that most sexually active people have STIs, hopefully people will not feel ashamed of them," adds Dr. Park. "Rather, they will feel empowered to go out and get tested regularly and take care of their sexual health."
When it comes to taking care of your health, affording your medication is key. Grab your free prescription discount card today. Simply show it to your pharmacist each time you fill a script and see how much you could save.