Prescriptions on Optum Store make getting your medication easy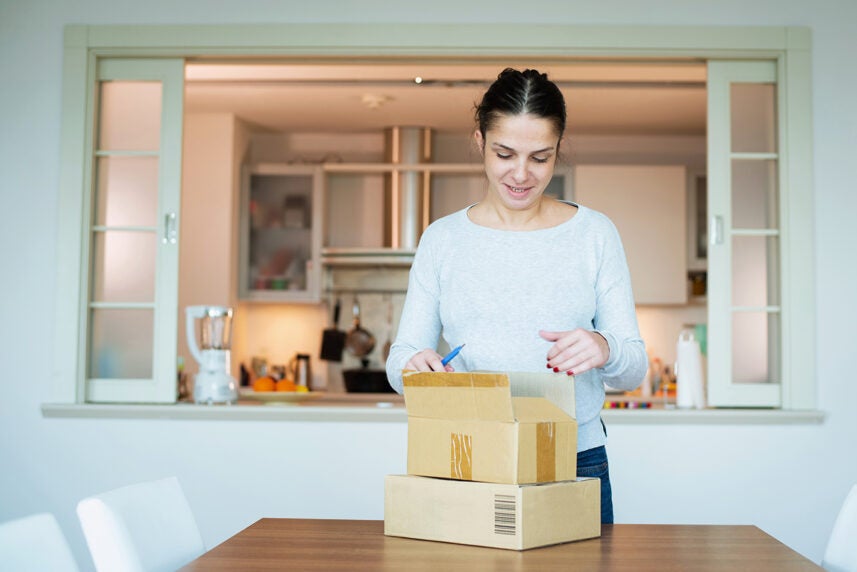 Our newest service, Prescriptions on the Optum Store, is changing how people buy medication. Your personal care has never been this convenient or headache-free.
Updated on
August 31, 2021
For many Americans, buying prescription medications is annoying. In some cases, it's unmanageable.
For one thing, medication is expensive: 1 in 4 people struggle to afford their prescriptions. This is according to data from the Peterson Center on Healthcare and Kaiser Family Foundation. And cost aside, the process for filling and paying for prescription drugs can be tedious. You drive to the pharmacy, often during your lunch hour or on your day off. Then you wait around while your prescription is being filled, and in some cases, you may have to come back another day to pick it up.
You also might have no idea as to how much your medication will cost. Optum Perks can help you find discounts, but if you're using insurance, the price can change month to month. And if the medication you need isn't covered, you'll have to work with your doctor to find an alternative within your plan.
Prescriptions on the Optum Store simplifies the process. The online pharmacy makes it easy to fill prescriptions for you and your dependents. It carries hundreds of medications, and you can order them from whatever device you're reading on right now.
Here's how the Optum Store will become your new favorite way to order medication.
You get low medication prices
Prescriptions on the Optum Store offers medication prices as low as $3.33 per month for a 90-day supply. They're among the most competitive rates you'll find anywhere.
There are a couple of notable reasons the pharmacy can offer such great deals. First, it develops relationships with wholesale manufacturers that allow it to negotiate on behalf of consumers. These prices are often lower than what an insurance company can negotiate.
Second, more than 90% of the medications Prescriptions on the Optum Store sells are generic. These are more affordable than brand medications, and they contain the same active ingredients. (If your doctor has prescribed you a name-brand medication, always get the okay from him or her before switching to a generic.)
The pharmacy does carry some branded medications, including Viagra®, Cialis® and some insulins. But the majority of its offerings are generics. (Here's what it's like to take erectile dysfunction medication, from someone who knows firsthand.)
The prices are consistent
Prescriptions on the Optum Store is a cash pharmacy, which means it doesn't take coupons or insurance. This allows it to cut out middlemen, such as insurance companies, which drive prices up and regulate what and how much you can purchase at a time.
Insurance works great for some people. But it also introduces variability. Depending on the company, prices can fluctuate, which makes it difficult to budget. And your insurance company might limit how much you can buy — no more than a 30-day supply, for instance.
With Prescriptions on the Optum Store, what you see is what you pay. The prices are set and guaranteed through the end of the year. You'll know exactly what your medications will cost each month.
Save up to 80% on your medications
Get prescriptions for as low as $4 with our free discount card, redeemable at over 64,000 pharmacies nationwide.
Get free card
You get 24/7 access to pharmacists
Wondering if a medication is likely to make you drowsy? Or whether it will interfere with your supplements? Whatever the question, Prescriptions on the Optum Store has pharmacists available for calls 24 hours a day, 7 days a week. Just pick up the phone to speak with a professional.
This can help take some of the stress out of starting a new medication. It also allows you to discuss sensitive topics privately, without a line of strangers waiting behind you.
Prescriptions on the Optum Store offers automatic refills and free delivery
With Prescriptions on the Optum Store, you can set your prescriptions to auto-refill. That means you don't need to remember to go online to reorder every month. Simply set it and forget it.
When your refill date comes around, your medication will arrive at your front door at no charge. Prescriptions on the Optum Store delivers for free in all 50 states. Standard shipping time is 5 days, but if you need a rush delivery (2 days or fewer), you can purchase that for just $7.99.
But auto-refill doesn't mean you're locked in. If you do need to change your order, you can do that, too. The website makes it easy for you to update your prescription and delivery schedule at any time.
It integrates with Optum Store's virtual care platform
Prescriptions on the Optum Store provides 2 ways to get prescriptions filled. You can either upload the prescription your doctor writes, or you can take advantage of Care on the Optum Store. This is a new virtual-health platform that makes doctors, nurse practitioners and therapists available to you remotely.
Care on the Optum Store can help patients obtain birth control or medication for erectile dysfunction or hair loss. It also offers mental health services, such as therapy. You can learn more about using Optum Store to treat anxiety and depression here.
People who use Care on the Optum Store will be able to seamlessly integrate counseling and prescription refills into the same account. You'll connect with providers who can write prescriptions to be processed immediately with Prescriptions on the Optum Store. If you and your provider decide to change your dose or switch the medication, it will all happen automatically in the system. It doesn't get much easier than that.

Additional source
1 in 4 people struggle to afford prescriptions: The Peterson Center on Healthcare and Kaiser Family Foundation