Our 8 favorite skin-protection products for sunny days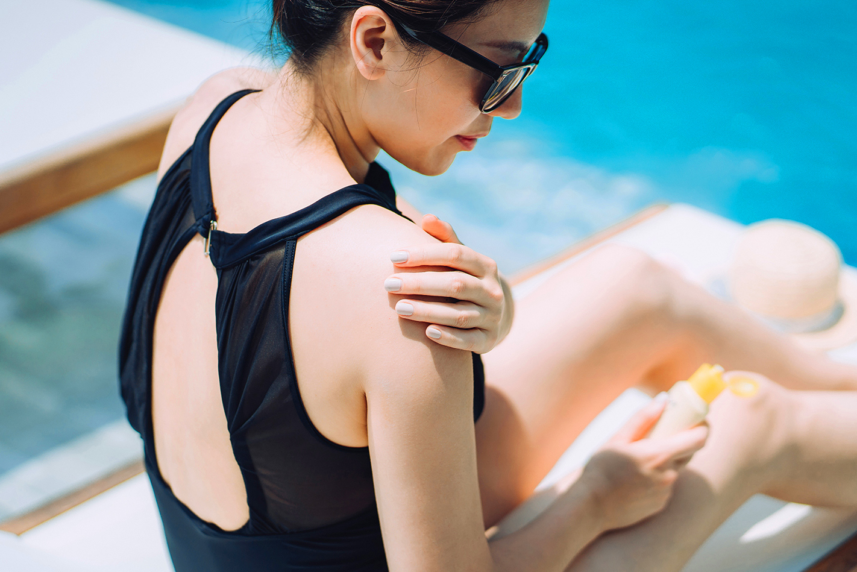 Lotions, sprays, sticks and balms: We have your SPF covered in our shopping guide.
Updated on
August 5, 2021
It's easy to overdo it in the summer. There's always another hot dog to eat, a frozen margarita to drink and an extra couple of hours of sunlight to soak up during the day.

All these habits are okay in moderation. But that last one, sunlight, can be sneaky. You might not even realize you're getting too much sun. "Much of the sun damage that accumulates in our skin is the result of daily incidental sun exposure," says Hadley King, MD. She's a board-certified dermatologist in New York City and a clinical instructor of dermatology at the Weill Medical College of Cornell University.
That's why you should always cover up while outdoors. Whatever skin isn't protected by clothing should be slathered in SPF. That goes year-round, Dr. King says. Not just in summer.
"Sunscreen reduces your overall UV exposure and lowers your risk of skin cancer and sun damage," says Dr. King. She advises wearing sunscreen every day and adding more every 2 hours or after swimming or sweating.
As to which sunscreens are best, that's hard to say. The American Academy of Dermatology (AAD) recommends broad-spectrum products. That means they protect against both UVA and UVB rays, 2 types of radiation. You also want sunscreen to be water-resistant and have an SPF rating of 30 or higher.
Beyond that, the Academy says that the best product is simply whichever one you use regularly. And that will be different for different people.
(Before you read on, did you know that Optum Perks can help you save at the pharmacy? Just show our free prescription discount card to your pharmacist. You could walk away with up to 80% in savings.)
Our favorite sunscreens
So first, a primer. Sunscreens fall into 2 main groups. The first is chemical sunscreens. These rub into your skin and absorb UV light, according to Harvard Health.
The second group is physical sunscreens (sometimes called mineral sunscreens). These sit on your skin and block sunlight. The active ingredients are zinc oxide and/or titanium dioxide. "Physical sunscreens are less likely to clog pores and irritate complexions, particularly for those with sensitive skin," Dr. King says. (Learn more about how sunscreen works.)
Beyond the 2 main categories, there's a world of options. Sunscreens come in lotions, gels, sticks, sprays and creams. They can be white or tinted. They come in a variety of textures.
To help simplify your search, we've rounded up some of the best options from the Optum Store. All these sunscreen products meet AAD recommendations. They offer broad-spectrum protection, water resistance and SPF 30 or higher. Plus, they all feel good on your skin, so you won't mind putting them on.
Vanicream Sunscreen Sport Lotion SPF 35, $14.74
This lotion is made for active people with sensitive skin. So it's free of things that tend to irritate, such as dyes, fragrance, lanolin, parabens and other preservatives.
The lotion gets its non-greasy, lightweight texture from a combination of chemical and physical sunscreens. It goes on completely clear, and it's non-comedogenic, meaning it won't clog your pores. That's great for people with acne-prone skin.
Neutrogena Ultra Sheer Dry-Touch Sunscreen SPF 55, $8.44
Neutrogena has an excellent reputation, and its Dry-Touch Sunscreen goes on smoothly. It absorbs almost instantly, so you never feel like there's anything oily sitting on your skin. It's also non-comedogenic, which makes it another great option for people who are prone to breakouts.
Coola Liplux Lip Balm SPF 30, $10
Your lips can burn and get skin cancer too. That's why the AAD recommends using a lip product with SPF 30 or higher when you're out in the sun. In addition to sun protection, Coola's Liplux is full of moisturizing, vitamin-rich ingredients. Think shea butter, coconut oil and sunflower oil, all of which help keep lips soft.
Bare Republic Mineral Sport Sunscreen Stick SPF 50, $9.99
The AAD recommends stick sunscreen for use around the eyes. Since sticks are solid, you're less likely to sweat or smear them into your eyes. This mineral sunscreen stick from Bare Republic, made with 25% zinc oxide, is ideal. The small plastic applicator fits easily in your pocket, where it can remind you to use it often. Plus, it goes on with a sheer, non-greasy finish, so it won't make your face shiny.
Coola Classic Body Organic Sunscreen Spray SPF 30, Pina-Colada, $25
Spray-style sunscreens are good for people who don't like rubbing on creams. They're also great for parents who can't get their kids to sit still long enough for a full rubdown. Sprays work well, says the AAD. You just want to make sure you hit all your exposed skin and then rub them in. (Sorry, you can't skip that step.) But Coola's spray is thin, with a strong but lightweight mist. That makes it easy to put on and rub in. Plus, it's naturally coconut-scented and packed with ingredients that support skin health, such as raspberry seed oil and prickly pear extract.
Free prescription coupons
Seriously … free. Explore prices that beat the competition 70% of the time.
Get free card
The bundles
Since no single product will likely meet all your sunlight needs, we put together a few greatest-hits SPF collections. Add one of these bundles to your beach bag and you'll have options for a range of uses.
Coola Is the Coolest Bundle, $99.99
This set has every inch of your body covered. It includes 2 body sunscreens: a spray with SPF 30 and a lotion with SPF 50, both of which are fragrance-free. There's also a hydrating SPF 30 moisturizer for your face and an SPF 30 scalp and hair mist. That'll come in handy for anybody with thin hair, or those who wear their hair in a part. These, and all Coola products, are made with at least 70% organic ingredients. They're also certified vegan and cruelty-free.
MDSolarSciences Reef Safe Sunscreen Bundle, $108
This is a premium SPF collection. The Daily Anti-Aging Moisturizer SPF 30 has caffeine, niacinamide and ultra-hydrating hyaluronic acid. These ingredients can help reduce signs of UV damage and wrinkles. And the Mineral Creme sunscreens (1 is tinted and 1 is non-tinted) are non-comedogenic. They give the skin a non-glossy finish, making them perfect to wear alone or under makeup as a primer.
As a big bonus, none of these Solar Sciences products has oxybenzone and octinoxate. These 2 sunscreen ingredients have been shown to negatively impact coral, Dr. King says. That means these products are considered reef safe.
Bare Republic Sunscreen Bundle, $45
These are all mineral sunscreens, meaning they're made with zinc oxide and titanium dioxide. This provides broad-spectrum UV protection and is often gentler on sensitive skin. This bundle also happens to be great for families. The Baby Sunscreen has moisturizing ingredients, which are safe for a baby's sensitive skin. They include calendula, olive and avocado oils. And the Mineral Sunscreen Neon Stick is — well, it's neon. The kids will enjoy coloring themselves purple while the parents get visible confirmation that everybody's wearing sunscreen.
Optum Perks makes keeping your family healthy easier, too. Download our app to access thousands of medication coupons instantly.