I got my COVID-19 vaccine. Does this mean I can travel again?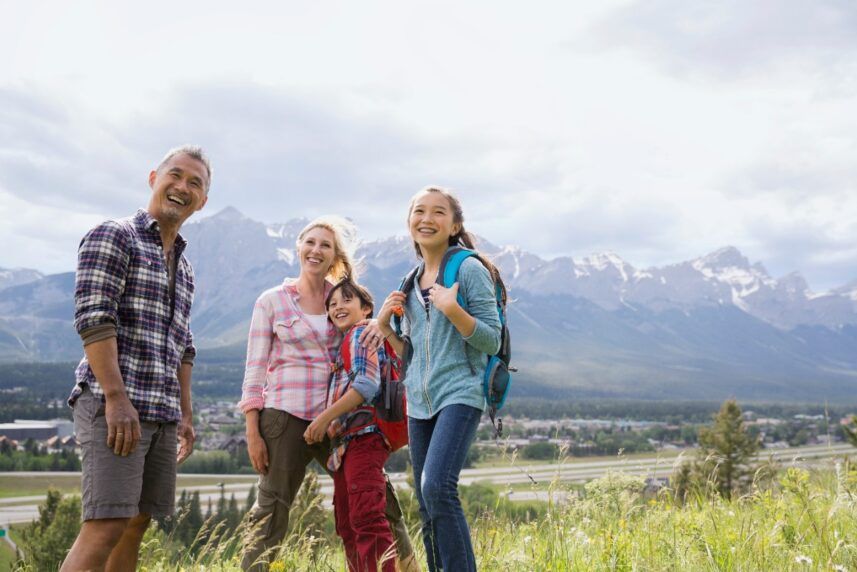 After nearly a year of living in lockdown, the much-anticipated vaccines are here. The prospect of life once again resembling the "before" times is thrilling. If you've received your COVID-19, it might be tempting to start plotting your next family gathering or vacation.
Susan Taylor, MD, a primary care physician at Kaiser Permanente in Lafayette, Colorado, understands the desire. She urges people to remember that just because you are hand-washing, wearing a mask and social distancing doesn't necessarily mean you can travel without risk — to yourself or others.
"If you can get in your car and take a road trip to see your kids or grandkids whom you haven't seen in over a year, go for it—as long as you do it responsibly by keeping in mind that there are still risks," she says. "But I'd put off flying or taking that cruise or European trip for another year or two." Here's what you need to know before you revisit your bucket list:
Even if you're vaccinated , it's possible you can still transmit coronavirus disease to others.
While the data suggests that you are less likely to get coronavirus disease after getting the vaccine, there is limited information on whether you can still transmit the virus after being vaccinated, says Jeffrey Stalnaker, MD, an internal medicine specialist in Viera, Florida, and the chief physician executive of Health First.
Most vaccines stop a contagious disease from taking hold by prompting the body to develop special antibodies that live in our mouth, nose and eyes. When we come in contact with a virus, those "surface" antibodies destroy the virus particles before they're able to infect the body's cells.
While scientists are hoping the COVID-19 vaccines help the body develop those surface antibodies, the research so far isn't clear. "Studies are still taking place that will help us understand whether the vaccines have an impact on transmission," says Dr. Stalnaker.
If you do travel, you'll still need to follow all public health and safety guidelines.
Again, it's because you might still be able to spread the virus even though you're vaccinated (this is called being an asymptomatic carrier), says Dr. Taylor. "It's really important to continue to wear your mask, avoid crowds and wash your hands frequently," she says.
You'll also want to follow local and state guidelines about isolating and getting tested before and after you've traveled. "This will help protect those who want the vaccine and haven't been able to get it yet, as well as children and those who aren't able to get the vaccine," says Dr. Taylor.
While the scientific community figures out the risk of spreading the virus after you've been vaccinated, maintaining these precautions is crucial, adds Dr. Stalnaker. "We need more data about the protection the coronavirus disease vaccines offer in real-world conditions before there can be a shift in these recommendations," he says. "Until we know more, we should all continue to follow the CDC's recommendations."
Free prescription coupons
Seriously … free. Explore prices that beat the competition 70% of the time.
Get free card
Traveling increases your exposure to all germs, and it can raise your odds of needing urgent care at a time when hospitals are still overcrowded.
You might be shielded (less like to get) from the coronavirus, but that doesn't mean you're protected from all of the other germs you might encounter on a train, plane or cruise ship. And if you get sick while you're away and need medical care, it'll add to the burden of an already strained hospital system, says Dr. Taylor.
It takes time after you've been vaccinated to reach optimal immunity .
There's no doubt that the effectiveness of the COVID-19 vaccines is downright remarkable. But don't embark on a friends and family tour the next day.
"It takes weeks to build immunity," says Dr. Stalnaker. You'll reach the reported 94% effectiveness of the Moderna vaccine 2 weeks after the second dose (which you should receive 4 weeks after the first dose). The Pfizer-BioNTech vaccine reaches 95% effectiveness 1 week after the second dose (which you'll get three weeks after your first shot).
"It's also important to keep in mind that no vaccines are 100% effective," adds Dr. Stalnaker. And while initial research shows that the vaccines appear to protect against the new strains of coronavirus disease that are emerging around the world, it's a situation health officials are still monitoring.
New strains of coronavirus disease will continue to pop up until we stop the virus from spreading. While getting a vaccine is a step in the right direction when it comes to curbing that spread, so is continuing to follow the CDC's guidelines, says Dr. Taylor. "Until we're able to vaccinate enough people to achieve community immunity, we all need to protect each other."
Do you need help paying for your prescriptions? The Optum Perks discount card can help you save up to 80% at pharmacies nationwide — no insurance required. Download yours now.