How to live with the death of someone you love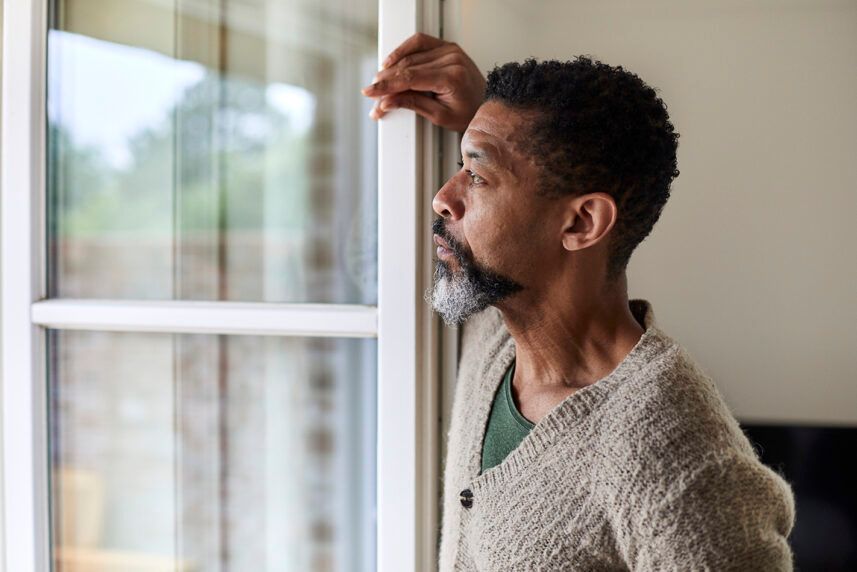 The stages of grief can feel overwhelming. Here are some strategies to help you navigate the emotional waves.
When Ramsey Bergeron heard that his lifelong friend Eddy Doman was in a coma, his first thought was that it couldn't be that bad. He figured they'd soon be back to hanging out like they always did. Not long afterward, though, Bergeron spent 5 hours holding his friend's hand on their last day together. Doman was 42 years old.
"I told him that I loved him and that he was the most selfless person I knew," Bergeron says. "And that if he was in pain, it's okay to let go and be at peace. And that's exactly what he did."
For the next few weeks, Bergeron felt numb and was caught up in helping plan a memorial. But when he had the time and space to grieve, the mix of feelings was overwhelming. It shifted from hurt, anger and sadness to gratitude for having had such a deep friendship.
More than a year later, he still experiences moments of bursting into tears. Yet he's gained enough distance to know that's all right. "What helps me keep things in perspective is knowing that I'll always miss my friend," he says. "But he'll always be here with me."
If you've experienced a loss, you might feel crippled. Moving forward can feel like letting go, and that can bring on its own kind of pain.
But know that you're not alone. Loss is part of life. And understanding how grief works may help you to get through the toughest moments. The journey won't be the same for everybody, but here's what you should know.
Recommended reading: How to talk to someone who is seriously ill or dying.
The stages of grief
One of the most common ways of understanding grief comes from what's called the Kübler-Ross model. It notes 5 distinct stages in the grieving process:
Denial. You may feel shocked, numb or confused.
Anger. This may feel like rage, but it can also feel like frustration, impatience or resentment.
Bargaining. In this stage, you may feel guilt, shame or anxiety. You may also struggle to find meaning.
Depression. Sadness is a natural feeling here, as are helplessness and being overwhelmed.
Acceptance. Here, your emotions begin to stabilize. You may feel more able to handle your emotions and be ready to live with this new reality.
But you're an individual, so you may experience these stages differently. In fact, many experts are coming to think of this model as a guide rather than a rule.
"It's important to remember that the stages of grief are not named in order," says Ami Baxi, MD. She's a psychiatrist at Northwell Health in New York City. "People can experience denial, anger, bargaining, depression or acceptance in any order. You may also experience some stages and not others."
What's more, you may experience each phase differently than someone else who's grieving with you. Grief symptoms can be both inward and outward.
For example, your sadness may manifest as trouble sleeping or loss of appetite, while for someone else, it shows up as crying. Or your numbness may cause you to procrastinate, while for someone else it translates into easy distractibility. All of these are normal.
How to move through grief
As it was for Bergeron, numbness may be your initial reaction as you try to adjust to the idea that your loved one has died. Once that wears off, though, emotions may rush back in with greater intensity. During this time, it's essential to give yourself space and time to feel that pain and acknowledge the loss, suggests Dr. Baxi.
Free prescription coupons
Seriously … free. Explore prices that beat the competition 70% of the time.
Get free card
"Often, people find solace in knowing that their loved one is no longer suffering or has gone to a better place," Dr. Baxi says. "Time is truly the best healer."
According to the American Psychological Association (APA), there are strategies that can help you through this process. Here are a few:
Give yourself grace. There is no right way to grieve. Know that your feelings are normal. It's important to recognize that you're going through an intense time, and it's okay if your expectations of yourself and others need to shift while you heal.
Stay connected to your loved ones. Spending time with others who are grieving the same loss can help everyone cope. You can share stories, listen to their favorite music or cook their most-loved dishes. Helping others heal can help you feel better, too, notes the APA.
Make room for self-care. This can be a tough one. But nourishing your body, sleeping well and spending time in nature can all give your overall well-being a boost. After all, sometimes you have to fake it till you make it, right?
Celebrate the one you lost. Moving through the stages of grief doesn't have to mean forgetting. While remembering their birthday or the anniversary of their death can be tough, it can also be a great time to honor them, the APA notes. Some people choose to make donations to their loved one's favorite charity or plant a tree in their memory.
The intense, overwhelming emotions usually begin to subside in the weeks, months and years that follow. But that isn't always the case. Dr. Baxi says that some people may feel stuck in a bereavement period and that the experience can be debilitating. "For example, someone may feel unable to move on with their normal routine," she says.
If that happens, it's time to consider looking for outside assistance such as a therapist or support group. (Not sure where to start? Virtual care from the Optum Store makes finding a therapist easy.)
Coming to acceptance
The acceptance stage of grief doesn't mean you move on with your life as if your loved one never existed or that your grief has ended, says the APA. Instead, it comes with an understanding that your loss has become more integrated into your life. And, perhaps, it has even changed you in profound ways.
That was the case for Bergeron. After Eddy's death, he began a new career. He started a business that offers transformational leadership coaching, wellness and classes in radical acceptance based on Buddhist principles.
Most likely, that's a shift that wouldn't have happened without the introspection that came with grieving, Bergeron says. The loss also allowed him to reflect on why he loved his friend so deeply and the qualities Eddy possessed — such as treating everyone with respect — that Bergeron wants to embody as well.
"I cannot begin to describe the pain and loss of not having my friend," he says. "But if I can live by his example of how to treat others, when it's my time to go, I'll see his smile one more time."
You can support your loved ones by helping them afford their medication through the Optum Perks app. It's free, and it could save you up to 80%.