How eating plants could protect you from severe COVID-19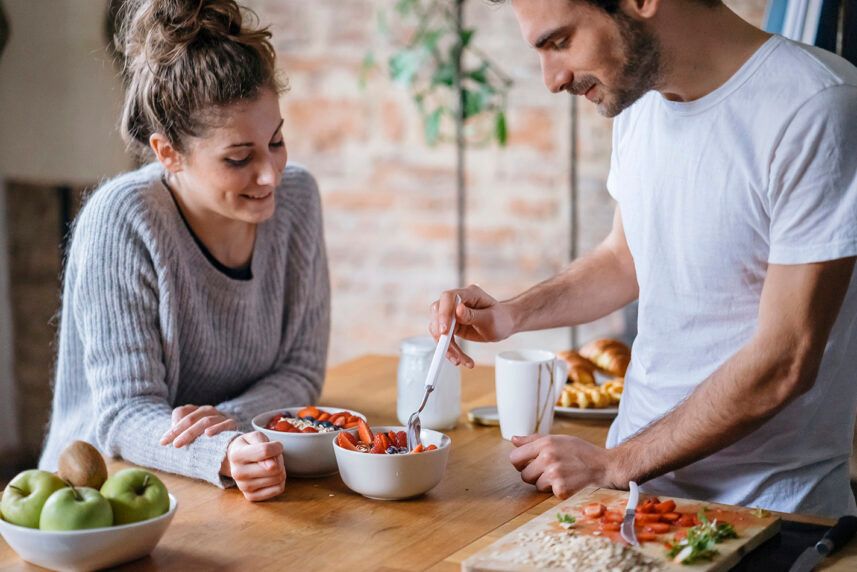 Some doctors argue that a plant-based diet should become routine medical advice. Here's why that's not a crazy idea.
Updated on
February 10, 2022
You already know the basics of protecting yourself from COVID-19: Get vaccinated, wear a mask, practice social distancing and wash your hands often. But there's another habit that can help: eating a plant-based diet.
"Vaccination is essential and lifesaving, but it's not enough," says Neal Barnard, MD. He's an adjunct professor of medicine at the George Washington University School of Medicine in Washington, D.C. He's also president of the Physicians Committee for Responsible Medicine.
Dr. Barnard has thought a lot about how diet affects your risk of illness. He recently co-wrote an editorial in The American Journal of Medicine on the topic. He argues that to combat COVID-19, doctors should begin telling their patients to eat a plant-based diet. "We know that it helps reduce risk of complications, and it may even help your body mount a more robust response from vaccination," he says.
The research backs him up. A study from Harvard found that people whose diets were high in fruits, vegetables, whole grains and other plants were 9% less likely to get COVID-19. And among people who did catch the disease, those who ate primarily plants were 41% less likely to develop a severe case.

Even more convincing was a 2021 study from BMJ Nutrition, Prevention & Health. It found that health care workers who ate plant-based diets were 73% less likely to develop moderate to severe COVID-19.

Of course, plants don't kill viruses. But they can boost your immune response. That could make you better at fighting all sorts of infections.
Sometimes you'll still need medication. That's where Optum Perks comes in: Our search tool can help you find discounts on your prescriptions. Click here to learn how it works.
But to boost your immune system from the inside, it's time to start eating right. Here's how.
What's a plant-based diet?
A plant-based diet allows for more than carrots and kale. It involves eating a range of food from the earth. According to a report from Kaiser Permanente, a plant-based diet should focus on:
Vegetables (cauliflower, squash, carrots, mushrooms)
Fruits (berries, melons, oranges, apples)
Beans and lentils (chickpeas, black-eyed peas, soy products such as tofu)
Nuts and seeds (walnuts, sunflower seeds, flax seeds, almond butter)
Whole grains (barley, brown rice, oats, quinoa)
Healthy fats (avocados, olives, extra virgin olive oil)
With a plant-based diet, you can still eat animal-based foods such as meat and eggs. But you'll limit them to a small portion of your overall calories. You'll also reduce your intake of processed foods and refined grains.
(For a plant-based plan that's proved to be effective, check out the DASH diet.)
Plant-based diets crowd out the unhealthy stuff
By keeping your belly filled with nutrient-dense plants, you leave little room for junk food. "A plant-based diet is lower in added sugar, poor-quality vegetable oils, animal fats and animal proteins that can drive inflammation," says Joel Kahn, MD.
Dr. Kahn is the author of The Plant-Based Solution. He's also a clinical professor of medicine at Wayne State University School of Medicine in Detroit.
Why is inflammation bad? It's an underlying cause of conditions such as obesity, diabetes and heart disease. These "comorbidities" increase your risk of severe COVID-19. In a study from Touro University California, researchers found that these types of conditions were associated with 93% of COVID-19 deaths.
You'll lower your risk of a poor outcome from COVID-19 by staying away from the foods most likely to cause comorbidities in the first place.
Plant-based diets can make the COVID-19 vaccine work better
Plant-based diets are associated with slimmer bellies, says Dr. Barnard. And being thin can improve your ability to produce antibodies. "When you carry extra weight, your body is in a state of low-grade inflammation that interferes with your immune response," he says.
A recent Italian study of health care workers backs that up. It found that those with bigger waistlines produced fewer antibodies after taking the Pfizer/BioNTech vaccine.
Plant-based diets are good for your gut
Most of the cells that drive your immune response live in your gut, says Dr. Kahn. And they're in close communication with the bacteria that live there. By keeping the bacteria happy, you keep the immune cells happy.
So how do you keep gut bacteria happy? Feed them fiber, which can be found in plants. When you eat foods such as vegetables, nuts and beans, the bacteria in your gut produce compounds that fight inflammation, says Dr. Kahn.
Related reading: Can probiotics improve your gut health?
Plant-based diets deliver the nutrients that fuel your immune system
Plants are the most reliable source of the nutrients that feed your immune system, says Dr. Kahn. He cites vitamin C, vitamin D, quercetin and zinc specifically. "No other diet can provide all of this," Dr. Kahn adds.
Certain diets, such as keto, may put you more at risk for severe COVID-19. The BMJ Nutrition, Prevention & Health study mentioned above found that people who followed a low-carb, high-protein diet (as you would with keto) were 48% more likely to develop moderate to severe COVID-19.
"These types of diets are very unhealthy because they restrict so many plant foods that are important to your immune system, like sweet potatoes and apples," says Dr. Barnard. "They also encourage people to consume high-fat animal products, which drives inflammation."
For other immune-boosting foods, Dr. Kahn also recommends citrus fruits, green leafy vegetables, mushrooms, apples, berries, garlic, onions and seeds.
Free prescription coupons
Seriously … free. Explore prices that beat the competition 70% of the time.
Get free card
How to eat for immunity
Switching your diet can be challenging. And if you're used to eating lots of meat, cheese and potato chips, going plant-based might bring up visions of rabbit food.
But eating plants doesn't have to be boring. Roasted vegetables, vegetarian chili and barley dishes can all be as hearty and satisfying as meat-based meals.
Stick to simple swaps
Replacing foods you love with their plant-based alternatives can ease you into a healthier new routine. In a study from Stanford University, people who agreed to eat veggie burgers instead of their regular meat-based burgers twice a week lost 1 pound and lowered their LDL, or bad cholesterol, by 10 points in 8 weeks. Here are some starter ideas from Kaiser Permanente:
Make chili with beans and leave out the meat
Replace beef burgers with veggie burgers or grilled portobello mushrooms
Make kebabs with onions, peppers, summer squash and other vegetables
If your plant-based meals taste bland, use spices, fresh herbs and nutritional yeast to kick up the flavor.
Give vegetarian a try
If you're unsure about what a plant-based diet would be like, break it into 2 steps, says Dr. Barnard. First, take a week to try as many plant-based meals as possible, and make a list of the ones you like.
Then take 3 weeks and go all-plant-based all the time and see how you like it. "For most people, it is life-changing," he says.
Branch out a bit
New foods can add excitement to your routine. Try replacing your daily apple with kiwi or try odd-looking vegetables you've never had before.
This strategy can be great for the bacteria in your digestive tract. This is according to the American Gut project, which is the largest study of the human microbiome to date. It found that people who regularly eat more than 30 types of plant foods a week have more diverse microbiomes than people who eat fewer than 10.

All the evidence adds up to this: Plant-based diets can have a huge impact on your health. They work in multiple ways to make your body stronger.

That said, when you do get knocked down by a virus or bacteria, medication may still be your best option. Download the Optum Perks discount card and you'll always be ready to save money. Just show it to the pharmacist at the register to see if there's a discount available.