A caregiver's guide to Alzheimer's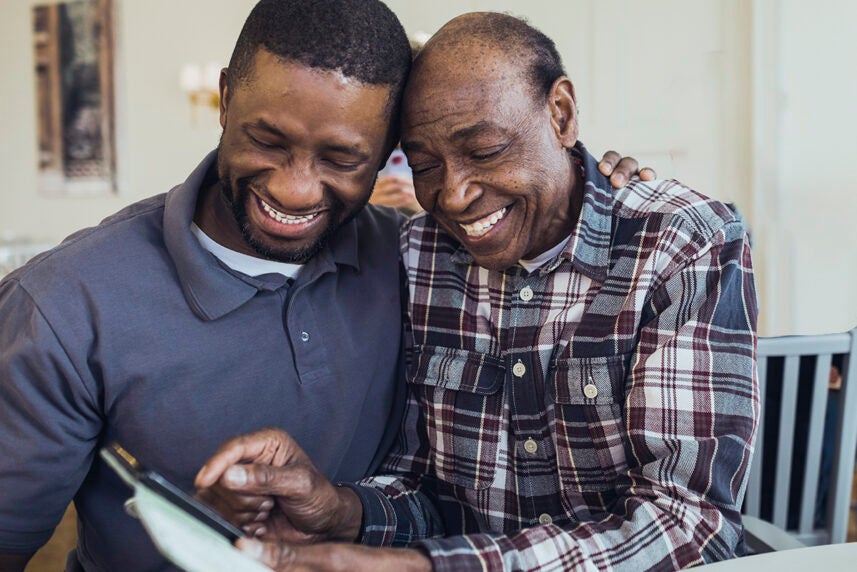 What you need to know about the disease and its progression, medications that treat symptoms, and how to take care of yourself while caring for a loved one.
Updated on
November 21, 2022
If someone you care about has been diagnosed with Alzheimer's disease (AD), then you've seen it up close. So you know that AD is difficult to manage on every level — for your loved one and for you. With no cure, there's no hope that the person will eventually get over the disease.
But there are ways to ease symptoms and help your loved one stay sharp for a bit longer — and help caregivers stay strong.
Here are some basics to help you get started.
What is Alzheimer's disease?
Alzheimer's happens when films of protein (called plaques) and fiber (called tangles) grow in your brain. This keeps chemical messengers (neurotransmitters) from sending signals to other parts of your brain. If that goes on for a while, brain cells begin to die off. Eventually, that can affect memory, speech and the ability to do everyday things such as tying your shoes.
In 2020, nearly 6 million Americans were living with AD. And that number is expected to reach 14 million by 2060.
Symptoms don't usually appear until after age 60 or so. And they're different for everyone. "Alzheimer's progresses differently from person to person," says Monica Moreno. She's the senior director of care and support for the Alzheimer's Association. "In the early stage, most people function independently. They may still drive, socialize, volunteer and even work."
But as the disease progresses, folks may have more trouble expressing thoughts and doing routine tasks. "They may jumble their words or have trouble dressing. And they may get frustrated or angry," Moreno says. In the late stages, they may not even be able to carry on a conversation. Chances are, they'll need to count on someone else for their care.
Maybe that caregiver is you. If it is, take a deep breath and look for some glimmers of hope. One of the biggest ones: medications that can slow the progression of AD. And that can make life a little easier for you and the person you love.
(No matter how you or a family member manages Alzheimer's, Optum Perks wants to help you save at the pharmacy. Here's how it works.)
Alzheimer's medications
There are a few medications that can help with AD. One gets right to the root of the disease, while others manage the symptoms. Here's an overview:
Aduhelm® (aducanumab)
Introduced in 2021, this medication works by targeting — and destroying — the protein that forms plaques in your brain and disables nerve cells. In clinical trials, people with mild Alzheimer's showed improvement in their memory and their ability to carry out simple tasks. But they also had some troubling side effects, such as headaches, vision changes and bleeding in the brain.
"It's the first and only approved drug that addresses the underlying biology of the disease," explains Moreno. But in addition to side effects, there's another big obstacle: cost. A year's worth of Aduhelm costs a whopping $28,200, with Medicare picking up only part of the tab (and that's only for beneficiaries enrolled in an approved clinical trial for the medication).
Cholinesterase inhibitors
"These address problems related to memory — functions like thinking, language, judgment and other thought processes," Moreno explains. "They work by preventing the breakdown of acetylcholine. That's a chemical messenger that's important for memory and learning." Cholinesterase inhibitors can support better communication between your nerve cells. Some examples:
These treat mild to moderate AD, and they're usually well tolerated. Side effects are typically nausea, vomiting, loss of appetite and more frequent bowel movements.
Glutamate regulators
This type of medication also targets symptoms. "These regulate the activity of glutamate. That's another chemical messenger that helps your brain process information," says Moreno. There are 2 kinds in this category:
Namenda® (metamine). It helps improve memory, attention, language and the ability to perform simple tasks, Moreno explains. Side effects may include nausea, vomiting, headache, confusion and dizziness.
Namzaric® (metamine and donepezil). "This is a combination drug," says Moreno. "It contains both a cholinesterase inhibitor and a glutamate regulator." It helps people with moderate to severe AD.
Recommended reading: Can you recognize these 5 early signs of dementia?
Save up to 80% on your medications
Get prescriptions for as low as $4 with our free discount card, redeemable at over 64,000 pharmacies nationwide.
Get free card
Keeping medications organized
If you're helping a loved one with AD, you may have to manage lots of medications. That can take a bit of organization. "As the disease progresses, you'll need to oversee and administer medications," says Moreno. "They may be taking drugs for other health conditions, too. So you'll need a system to avoid missed or incorrect doses. That could lead to serious consequences." Some ways to stay on top of your loved one's medications:
Use a pill box or organizer to sort medications by the day and time they should be taken.
Keep careful records of all current meds, including the name, dosage and starting date.
Create a quiet, distraction-free space to give your loved one their medications. If they refuse the medication, try again a little later.
Check with the doctor or pharmacist to be sure which medications need to be taken with or without food.
If you miss a dose, ask the pharmacist or doctor what to do. Double-dosing can cause serious — even life-threatening — problems.
Care for the caregiver
You have an important job. Take care of yourself so that you can do it well. "The best thing you can do is to stay physically and emotionally strong," Moreno advises. "Visit your doctor regularly and listen to what your body is telling you. Remember that staying healthy can help you be a better caregiver." Looking after your own needs may seem to be an afterthought, but make it a priority. Try these tips:
Keep moving. Physical activity is important for your body and your mind. In a recent study, caregivers who spent up to 150 hours a week walking, swimming, biking or doing yoga improved their mood. They also experienced less depression and had better heart health. Even 12-minute exercise sessions can help.
Stay positive. In a recent study, family caregivers for Alzheimer's patients learned daily "happiness" skills. The intervention group would look for positive things that happened during the day and then write about them in a journal. The control group filled out a daily questionnaire. After 6 training sessions, the intervention group saw a 7% greater drop in depression and a 9% greater drop in anxiety than the control group.
Tap into technology. Use your computer, tablet or smartphone to help you streamline tasks. It's helpful for things such as refilling prescriptions or tracking doctor appointments. Try smartphone apps such as Caring Village (free for Apple and Android phones) to help you coordinate care.
Seek support. Don't be afraid to reach out to others — you can't always do it alone. "Caring for a person with AD often involves a team of people," says Moreno. "It's important to ask for help from family and friends. Or seek help from organizations such as the Alzheimer's Association, including its 24/7 Helpline."
Find local support groups that meet in person or on Zoom, and seek out education and respite programs, too. One great resource: Your local Area Agency on Aging. "As the disease progresses, it's important for caregivers to continually reassess their ability to provide care," advises Moreno. "At some point, your loved one may need in-home or long-term care."
Caring for someone with Alzheimer's can be frustrating for the person with the disease as well as the caretaker. And it's a process that will evolve and change. So give yourself some grace. And make time for self-care so that you can be strong and present for your loved one and your whole family.
And if you're picking up Alzheimer's medication at the drugstore, remember to show your pharmacist this free prescription discount card. It could save you up to 80%.