Antidepressants for anxiety: 7 options
Some antidepressants — including citalopram, trazodone, sertraline, and fluoxetine — are effective treatment options for anxiety disorders.
Medically reviewed by Alexandra Perez, PharmD, MBA, BCGP on January 31, 2023
Antidepressants are first-line treatments for anxiety. Other drugs used to treat anxiety include anti-anxiety medications, such as benzodiazepines and beta-blockers.
The most common antidepressants for anxiety are selective serotonin reuptake inhibitors (SSRIs) and selective serotonin-norepinephrine reuptake inhibitors (SNRIs). Tricyclic antidepressants are another option. Many antidepressants are available as both generic and brand name drugs
Antidepressants work by increasing mood-related neurotransmitters in the brain. Doctors often prescribe them for anxiety along with talk therapy.
People with mild anxiety may not need medical treatment. But if your symptoms are causing distress or complications, such as impairing your relationships or leading to alcohol misuse, a doctor may recommend talk therapy, medications, or both to help you manage your symptoms.
Citalopram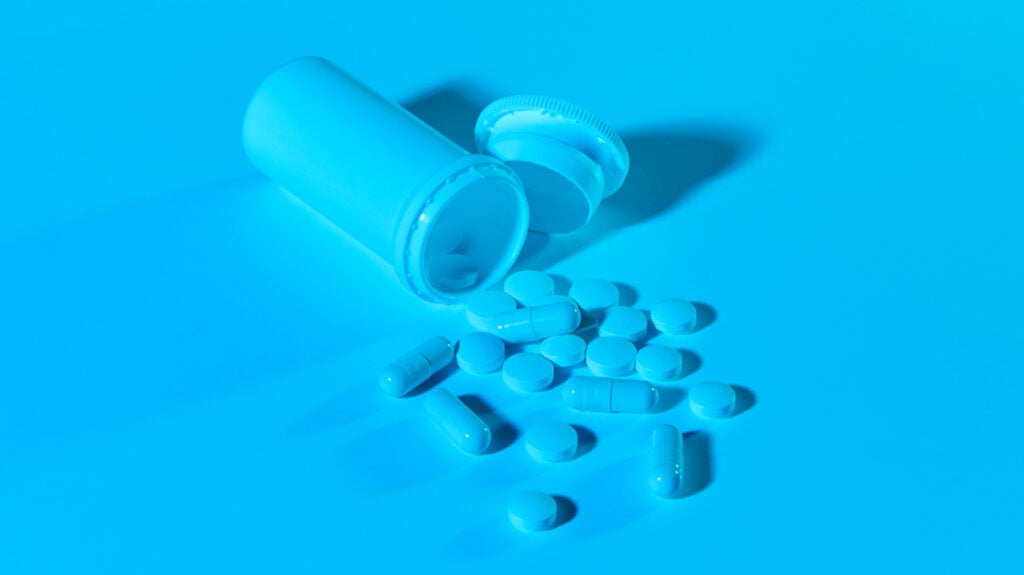 Citalopram is an SSRI sold under the brand name Celexa. People take citalopram once daily by mouth as either a tablet or liquid.
Like other antidepressants, citalopram helps boost your mood. You may feel less anxious, sleep better, and feel more relaxed about things that typically worry you.
Side effects
Like all antidepressants, citalopram has a number of possible side effects, which include:
gastrointestinal symptoms, such as nausea, constipation, or stomach pain
reduced appetite
weight loss
sleep problems
sweating
thirst
fatigue, drowsiness, or yawning
muscle or joint pain
dry mouth
sexual problems
heavy menstrual periods
Escitalopram
Escitalopram is also known by its brand name Lexapro. The drug is in the SSRI class. People typically take Lexapro in tablet or liquid form once a day, in the morning or evening.
Side effects
You may experience these side effects while taking escitalopram:
gastrointestinal symptoms
reduced appetite
weight loss
sleep problems
sweating
fatigue, drowsiness, or yawning
dry mouth
shaking
sexual problems
flu-like symptoms
runny nose
sneezing
Trazodone
Trazodone is a serotonin modulator. This drug works by increasing the amount of serotonin in the brain. The immediate-release form is only available as a generic in the United States. The extended-release formulation is sold under the brand name Oleptro.
People take this medication in tablet form once a day.
Side effects
The following are some of the more common side effects of trazodone:
gastrointestinal symptoms
changes in weight or appetite
nightmares
nervousness
weakness
fatigue
stuffy nose
muscle pain
dry mouth
sexual problems
shaking
dizziness or lightheadedness
red or itchy eyes
Sertraline
Zoloft is the brand name for sertraline, an SSRI antidepressant. People typically take this medication once a day.
You can take Zoloft in a tablet or liquid form. If you take the liquid, you must dilute the concentrate before drinking, according to the prescription directions.
Side effects
There are many common side effects of sertraline, which include:
gastrointestinal symptoms
sleep problems
fatigue
headache
nervousness
shaking
sweating
sexual problems
dry mouth
loss of appetite
weight changes
Fluoxetine
Fluoxetine is an SSRI sold under the brand name Prozac. A combination product containing fluoxetine and olanzapine is sold as Symbyax. This medication comes as a tablet, capsule, or liquid, and also has a delayed-release capsule form.
Symbyax is used off-label for anxiety. This means doctors may prescribe it for anxiety even though it isn't officially approved for treating anxiety.
People typically take the delayed-release form of fluoxetine once a week, while other forms are taken once or twice daily.
Save up to 80% on your medications
Get prescriptions for as low as $4 with our free discount card, redeemable at over 64,000 pharmacies nationwide.
Get free card
Side effects
The common side effects of fluoxetine include:
nervousness
sleep changes
nausea
diarrhea
dry mouth
weakness
yawning
memory and concentration problems
headache
confusion
sweating
unusual dreams
stuffy nose
sexual problems
shaking
weight loss
loss of appetite
Bupropion
Bupropion is a type of antidepressant known by its brand names Wellbutrin, Aplenzin, Forfivo, and Zyban. Some people use bupropion off-label for anxiety.
Bupropion works by changing the levels of dopamine and norepinephrine in the brain.
This medication comes in a tablet, extended-release tablet, and sustained-release tablet. Depending on the form of bupropion, your prescription may call for a dose once, twice, three, or four times a day.
Side effects
Bupropion's common side effects include:
drowsiness
sleep problems
dizziness
nausea
vomiting
dry mouth
headache
shaking
weight loss
appetite loss
ringing in the ears
changes in the sense of taste
sweating
constipation
stomach pain
Venlafaxine
The brand name of the extended-release capsule form of venlafaxine is Effexor XR. The immediate-release tablet form is available only as a generic in the United States. Venlafaxine is an SNRI antidepressant.
You can take the extended-release capsule of venlafaxine once a day or the immediate-release tablet two to three times daily.
Side effects
Venlafaxine has many common side effects, which include:
gastrointestinal symptoms
weight or appetite loss
changes in ability to taste food
ringing in the ears
enlarged pupils
hot flashes
nightmares
sore throat or chills
weakness
fatigue
pain, burning, tingling, or numbness in the body
yawning
dry mouth
sexual problems
shaking
dizziness
Need help covering the cost of antidepressants for anxiety? The Optum Perks free Discount Card may help you get up to 80% off your usual prescription cost.
How to choose the right antidepressant for you
You can work with your doctor to choose an antidepressant. You may have to try different medications before finding the right one. Antidepressants can take several weeks to a month before you begin feeling their effects.
Choosing the right medication involves many factors, like:
type of anxiety disorder
side effects
your overall health and lifestyle
your preferences
Before stopping a medication, it's important to speak with your doctor about gradually reducing the dose to avoid withdrawal symptoms.
Other anxiety treatments
In addition to antidepressant medications, your doctor may also recommend the following anxiety treatments:
Cognitive behavioral therapy can help you find new ways of thinking and reacting to circumstances, so you have less anxiety.
Exposure therapy can help you confront and learn to manage the source of your anxiety.
Acceptance and commitment therapy teaches you to use mindfulness and goal-setting to manage anxiety.
Anti-anxiety medications, such as benzodiazepines, reduce symptoms of anxiety and panic attacks.
Beta-blockers reduce physical anxiety symptoms, like rapid heartbeat and shaking.
Summary
SSRIs and SNRIs are first-line treatments for anxiety. Choosing the right antidepressant is a choice you can make with your doctor.
Besides antidepressants, you can treat anxiety with talk therapy, beta-blockers, or anti-anxiety medications.
Article resources