We need to talk about Hispanic and Latino mental health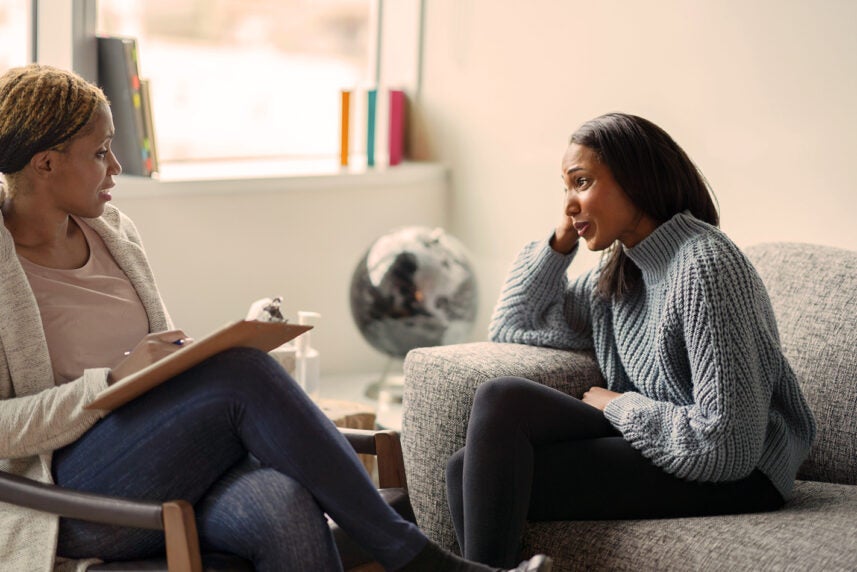 This group has a higher risk of depression and anxiety than other racial groups. Here's why, and what you can do about it.
Updated on
April 11, 2022
Most of us can agree that the last couple of years have been rough. So it shouldn't come as a surprise to learn that rates of depression and anxiety have increased worldwide. And some groups of people are more vulnerable than others, including Hispanic and Latino populations in the U.S.
According to a recent report from the Centers for Disease Control and Prevention, symptoms of current depression were reported 59% more often by Hispanic American adults than by non-Hispanic whites. Hispanic Americans were also 4 times more likely to have suicidal thoughts compared with people of other races and ethnicities.
If you or someone you know in the Hispanic and Latino community is struggling with mental health, know that there is help out there that fits any budget or need. You have options. But to get started, it helps to understand the problem.
Mental health in Hispanic and Latino communities
Several factors account for the high rates of depression and suicidal thoughts, says Ruby C. Castilla, MD. She's a psychiatrist and epidemiologist in Cincinnati and president of the American Society of Hispanic Psychiatry. "Job loss, housing and financial instability, food insecurity and lack of access to necessary health care are all things affecting Hispanic and Latino people," she says.
Another major factor: money. "The issues have to do with the economic inequality that many Hispanic and Latino people are facing," adds Dr. Castilla. The U.S. Census Bureau reports that 17% of Hispanics lived below the poverty line in 2020 (versus 8.2% for non-Hispanic whites).
Poverty can have a big impact on mental health. According to the U.S. Health and Human Services Office on Minority Health, Hispanics living below the poverty level are twice as likely to report serious emotional distress as Hispanics who are living at double the poverty level or higher. (If you're struggling to afford your prescription medications, download our free coupon app.)
Another reason that Hispanics and Latinos undergo more depression and anxiety has to do with racism, says Omar Torres. He's a licensed therapist in New York City and director of the Torres Group, his private therapy practice.
"The uptick in harmful rhetoric and hate directed toward the Hispanic and Latino people has played a large part in the higher rates of depression we're seeing," says Torres. "When you factor in any kind of marginalized identity, it adds a layer of complexity that's difficult to navigate."
If you're in pain for any reason, the important thing is that you get started on the path to healing. Here's how.
Make your mental health a priority
Depression and anxiety aren't things you just have to live with. "People in the Hispanic population often don't see depression as a disease," says Dr. Castilla. "They may figure, 'Why reach out for help when this is just how it is.'"
In fact, Dr. Castilla recently published a study on this topic in the Annals of General Psychiatry. She and fellow researchers looked at chats on social media and online forums. They found that 44% of Hispanics had a resigned, hopeless attitude about depression, compared with 30% of non-Hispanics. These beliefs can lead to a lot of suffering in silence.
"In our analysis, people who self-identified as Hispanic didn't see depression as a disease and didn't reach out for help," explains Dr. Castilla. "But like hypertension and diabetes, depression is a disease. And all of these diseases have treatments, so why wouldn't you treat them in the same way?"
Torres agrees. "It may feel daunting, but the important thing is to make your emotional well-being a priority," he says. "Although it's a difficult step to take, you're absolutely worth the care and effort that's required for your mental health."
Pay attention to physical symptoms
Ever get butterflies in your stomach when you're nervous or a pounding headache when you're stressed? Then you know just how powerful the mind-body connection is.
According to the University of Michigan, it's common for Latino and Hispanic Americans to have physical symptoms of depression or anxiety. These may include:
Backaches
Headaches
Stomach issues
Shortness of breath
Chest pain
"Primary care physicians are a great place to start if you're experiencing physical or psychological symptoms," says Torres. First off, they can help you figure out if these symptoms are related to your mental health. They also tend to know therapists they can refer you to, adds Torres.
Recommended reading: Here's everything you ever wanted to know about therapy.
Find a provider that makes you feel heard
If you're at the beginning of your mental health journey, this may feel like a tall order. There's a lack of behavioral health professionals who identify as Latino and can provide Spanish-language and culturally responsive services, says Yvonne Ruiz, PhD. She's a professor of social work at Salem State University in Massachusetts.
And that can be a major barrier for some. "Latino people want to feel culturally respected and heard and that the provider has made an effort to understand their cultural perspective," says Ruiz. She adds that many people drop out of therapy because they feel misunderstood, unwelcome or disconnected from their therapist.
Luckily, many therapist directory tools have filters that let you pick and choose what's important to you. For example, both the American Psychological Association and Psychology Today allow you to search for therapists in your area by languages spoken and ethnicities served.
Another option is virtual therapy. You'll have a wider variety of mental health professionals to choose from (and you'll be able to speak to them from home). Check out Care on the Optum Store. Your first month of therapy is only $9, and you can switch providers at any time with no fee.
Other online directories to look into include:
Save up to 80% on your medications
Get prescriptions for as low as $4 with our free discount card, redeemable at over 64,000 pharmacies nationwide.
Get free card
Explore cost-saving services
Therapy doesn't have to be expensive. You just have to know how to find the best deals.
If you have health insurance, it's smart to see if they'll help you pay for therapy, says Deniss Pleiner. She's a Pasadena, California–based therapist who specializes in treating Latino people. Even if you're on a high-deductible plan, your insurance provider can negotiate lower rates. So you'll often pay less than the out-of-pocket price.
You can find your insurance plan's directory of therapists online or by calling a customer service representative. (This approach is often easier than cold-calling a therapist and asking if they take your insurance, Torres adds.)
Once you connect with a therapist, it's worth asking if they can see you for a reduced fee.
"A lot of therapists like myself have sliding scales," says Pleiner. "A quarter of my caseload is reserved for people who are in financial need, and they pay a lower fee. So don't be afraid to say 'I know this is your fee, but do you have any sliding scale or reduced fee options?'"
For those who are uninsured, there are still plenty of free or low-cost choices. You can seek out a Federally Qualified Health Center that is funded by the federal government. Hospitals are another resource. They're a great place to start because they all have social workers on staff, and part of their job is to link people to therapeutic services, explains Torres.
Other options for either free or affordable mental health support include universities and colleges with post-graduate centers for mental health, LGBTQ centers, and hotlines with bilingual counselors such as the National Suicide Prevention Lifeline (1-800-273-8255) and the Substance Abuse and Mental Services Administration National Hotline (1-800-662-4357).
Handling a mental health concern isn't easy. Doing it alone is even harder. But know that help is out there if you need it. Another thing that can help? You can save up to 80% on your medications with this free prescription discount card. Simply present it at checkout.