Is vaping a safe way to quit smoking?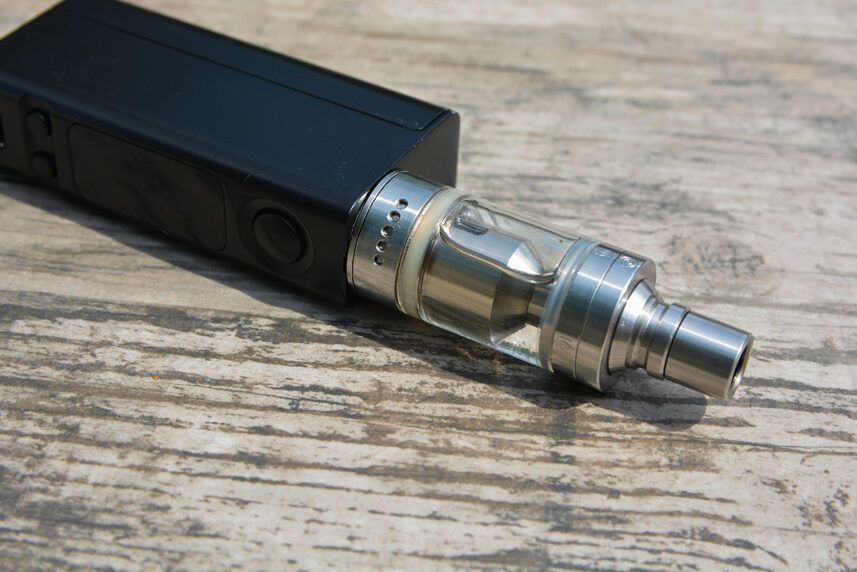 Many people turn to e-cigarettes as a tool to quit smoking. But is vaping really a safe alternative?
It's no secret that cigarettes are terrible for your overall health. Smoking is the leading cause of preventable death in the U.S. It accounts for more than 480,000 deaths (nearly 1 in 5) each year, according to the Centers for Disease Control and Prevention (CDC).
Thankfully, Americans have been kicking the habit at record rates. Levels of cigarette smoking are at all-time lows. In the surgeon general's first report on the subject in 1964, 43% of adults said they were smokers. In 2018, that number had fallen to just 14%, per the most recent report.
That's thanks in part to smoking cessation products, such as nicotine gum and patches. But there's another tool that people are increasingly using to quit: e-cigarettes. A 2022 study reported that 12.6% of smokers used e-cigarettes to help with their most recent attempt to quit.
E-cigarettes were first introduced in the U.S. in 2006. And they've grown in popularity in recent years. Today, nearly 11 million Americans report using them.
But is vaping really less harmful than cigarette smoking? And can it really help smokers quit? Here's what the science says about the pros and cons of using vaping to quit smoking.
(And don't forget to grab your free prescription discount card. Use it to save up to 80% at the pharmacy.)
Pro: E-cigarettes may have fewer chemicals than cigarettes
E-cigarettes work by heating a liquid to create an aerosol. Then you breathe in those tiny airborne particles. It's different from burning a paper-wrapped mix of tobacco and chemical additives.
That's why e-cig aerosol often looks cleaner than regular cigarette smoke. "In theory, vaping has been thought to be less harmful than smoking because it doesn't generate the same kind of smoke with tar or carbon monoxide that smoking does," says Bruce Y. Lee, MD. He's a professor of health policy and management at CUNY School of Public Health in New York City.
And it might be: Vapes generally contain fewer toxic chemicals than the deadly mix of 7,000 chemicals in regular cigarette smoke, according to the CDC.
Con: E-cigarettes still contain harmful chemicals
That said, e-cigarettes are not without risks. "The vapor can contain a number of toxins that can cause cancer and other bad health effects," Dr. Lee says.
For one, most e-cigarette liquids contain nicotine. It's the same addictive chemical found in regular cigarettes. They can also harbor heavy metals and chemical flavorings that can lead to serious lung disease.
And if you think you can pick a "cleaner" vape liquid by looking at the packaging, think again. The CDC has found that some vape products don't disclose everything they contain. For example, some "nicotine-free" vape products still contain nicotine.
Pro: Vaping may help a small number of people quit smoking cigarettes
E-cigarettes may help some people quit smoking regular cigarettes. A 2021 analysis estimated that for every 100 people who used vaping to try to quit smoking, between 9 and 14 of them might be successful. One reason: Vaping allows folks to better control their nicotine dosages. And this can help wean themselves off.
That's great for them. Still, a 9% to 14% success rate doesn't inspire much confidence. As an alternative, read about how these 4 people quit smoking without vaping.
Con: Vaping doesn't reduce relapse rate
Vaping may help you wean off cigarettes. But it doesn't mean you'll stay off them for good.
The 2022 study mentioned above also looked at relapse rate. Experts found that people who switched to e-cigarettes appeared to have a higher smoking relapse rate than those who did not switch.
Con: Vaping may cause serious health problems
Vaping has been linked to many health issues. In a 2022 American Journal of Preventive Medicine study of 600,000 people, researchers looked at e-cigarette smokers who never used traditional cigarettes. They found that these vapers were 54% more likely to say they have been diagnosed with prediabetes.
Vaping has also been linked with erectile dysfunction, high blood pressure and stiff arteries.
Free prescription coupons
Seriously … free. Explore prices that beat the competition 70% of the time.
Get free card
Con: E-cigarettes may have higher amounts of nicotine, making them more addictive
Beginning in 2015, higher-concentration nicotine vapes began to grow in popularity. This refers to e-cig liquids with a nicotine concentration of 5% or more.
These higher levels of nicotine may make e-cigarettes more addictive. A 2019 study found that nicotine dependence levels were twice as high in e-cig users than traditional tobacco smokers.
Recommended reading: What ex-smokers need to know about preventing lung cancer.
The bottom line
Vaping might seem like a safer alternative to traditional cigarettes. But it's still dangerous to your health. And since e-cigarettes are newer than traditional cigarettes, there's still a lot we don't know about them.
"Vaping may have a role as a temporary step-down from smoking for some people," says Dr. Lee. Yet it's not a long-term solution. "Simply replacing smoking with vaping may not really improve your health in the long run," he adds.
Talk to your health care team about what you can do to kick the habit for good. And if you need medication for any reason, we want to help you save. Use our prescription discount app to find medication coupons to use during your next trip to the pharmacy.