The vaccines you need as an adult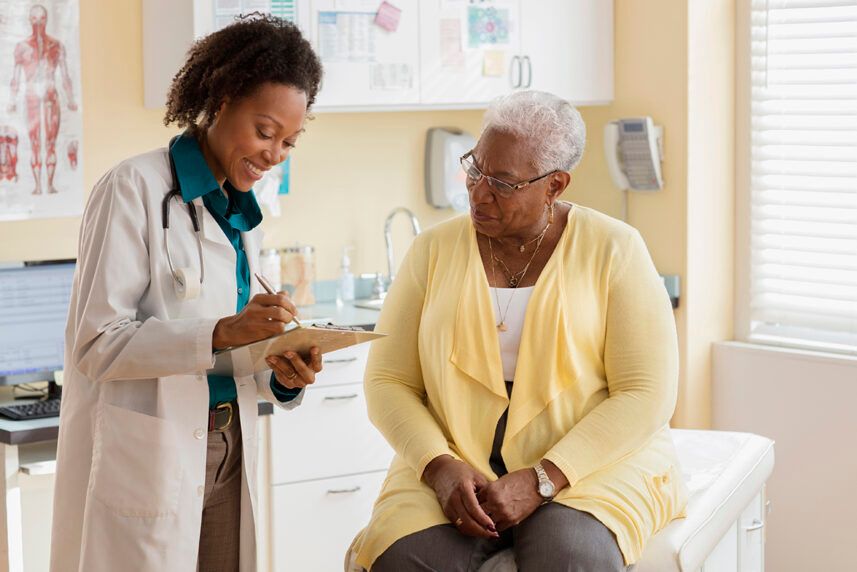 Vaccines aren't just for kids — grown-ups need them, too. Find out which ones you need and why.
Updated on
August 17, 2022
Remember those childhood trips to the pediatrician? They often involved getting shots. As an adult, you don't get jabbed nearly as much. (You also don't get a lollipop at the end of the visit.) So it may have been a while since you've done an overhaul on your vaccination status (and we're not talking about just COVID-19). You're not alone. Only 1 in 5 adults are up to date on their shots. That's according to the Immunization Action Coalition (IAC).
"The older we become and the more [chronic] illnesses we have, the riskier common infections can be," says Andrew Cougill, MD. He's a family practice doctor for American Health Network in Indianapolis. "We vaccinate younger adults to help protect the population as well as their loved ones. The people most at-risk are the very young and the very old," says Dr. Cougill.
To help keep everyone healthy, we rounded up 6 of the most important vaccines you need as an adult. (The IAC also has an easy-to-use chart that details the vaccines adults need. Some of them are not listed below.)
Do you need help paying for your prescriptions? Download the Optum Perks discount card to start saving up to 80% at pharmacies nationwide, no insurance required.
Influenza
An estimated 35 million people had the flu during the 2019-20 flu season, according to the Centers for Disease Control and Prevention (CDC). Of those, 380,000 were hospitalized and 20,000 died. Additionally, there were 16 million flu-related medical visits.
This is why the influenza vaccine, also known as the flu shot, is very important for adults, especially older adults.
"Influenza in a healthy 30-year-old is not that risky. But it could be very risky for a 65-year-old with a heart problem or lung disease," says Dr. Cougill. "People who are vaccinated against influenza and pneumonia, for example, are less likely to need an ICU stay. And they're less likely to die."
"The timing of the flu shot isn't as vital as we once thought," says Dr. Cougill. "So any time in the fall months is fine." (Did you know that you can get many vaccinations at your local pharmacy instead of the doctor's office? It could save you time and money.)
Tetanus, diphtheria and pertussis (Tdap, Td)
The vaccine is not 3 separate shots, but 1 shot that protects against 3 diseases: tetanus, which causes severe muscle spasms in the jaw and neck; diphtheria, which causes swelling in the nose and throat; and pertussis (whooping cough), which causes violent coughing fits. The coughing makes it difficult to breathe or eat.
A booster is recommended for adults every 10 years. The shot is critical if you plan to be around a newborn.
"Whooping cough is still [common]," says Dr. Cougill. "Infants aren't vaccinated against pertussis until they're 2 months old. If you're going to be around a newborn, it's important to get this Tdap booster."
If you haven't received a dose of the adult whooping cough vaccine (Tdap) during your lifetime, get it now. And women should get a dose during each pregnancy.
Recommended reading: All Your Back-to-School Vaccination Questions Answered.
Zoster (shingles)
If you had chickenpox as a kid, you're at risk for getting shingles as an adult. Shingles is a viral infection that results in a painful rash. It's caused by the varicella zoster virus. This is the same virus that causes chickenpox.
"Shingles only occurs in people who had chickenpox previously," says Dr. Cougill.
According to the CDC, if you're 50 or older, you should get the 2-dose series of the Shingrix vaccine. It's more than 90% effective at preventing shingles.
Anyone 19 and older with a weakened immune system should get 2 doses of Shingrix. That's because they have a higher risk of getting shingles. And they have a higher risk of complications from the illness.
The CDC also notes that even if you've had shingles, you should still get Shingrix. If you previously received a shingles vaccine called Zostavax, you should still get Shingrix. (Zostavax is no longer available for use in the U.S. as of November 2020.)
Free prescription coupons
Seriously … free. Explore prices that beat the competition 70% of the time.
Get free card
Human papillomavirus (HPV)
HPV is the most common sexually transmitted infection in the U.S., per the IAC. More than 79 million Americans are infected. HPV infections can come without symptoms or go away on their own. But they may also cause precancerous lesions or cancer in both men and women. In women, HPV can increase the risk of vulvar, vaginal and cervical cancer. In men, it can raise the risk of penile cancer. In both men and women, it can increase the risk of anal and oropharyngeal cancers.
The IAC notes that you should get this vaccine if you're 26 or younger. That said, adults between 27 and 45 can also get vaccinated, but only after a discussion with their health care provider. The CDC notes that the HPV vaccination for older adults provides less benefit. This is because more people in this age range have already been exposed to HPV.
No matter the patient's age, the vaccine is usually given in 3 doses over 6 months.
Pneumococcal
This vaccine is for pneumonia (a lung infection). There are 2 kinds of pneumococcal vaccines available in the U.S.:
Pneumococcal conjugate vaccines (PCV13, PCV15 and PCV20)
Pneumococcal polysaccharide vaccine (PPSV23)
The CDC says the PCV15 or PCV20 is best for adults 65 and older. The CDC recommends PCV15 or PCV20 for adults 65 or older and adults 19 through 64 with certain medical conditions or risk factors. If PCV15 is used, this should be followed by a dose of PPSV23.
"There are a few vaccines that give better protection than natural infection. They are tetanus, HPV and pneumonia," adds Dr. Cougill.
COVID-19 vaccine
More than a million Americans have died from COVID-19, per the CDC. One of the best ways to improve your body's immune response to the virus is to get the COVID-19 vaccine.
"If you haven't had your first 2 doses, now is the time," says Dr. Cougill. "And if it's been a while since you had your first doses, you may want to consider a COVID-19 booster shot. Protection may wane after 4 to 6 months," says Dr. Cougill.
He adds that continued boosters may be required. Note: Boosters may have mixed results in protection from emerging variants.
Travel-specific
If you plan to travel outside the U.S., you may need extra vaccines to keep you healthy.
What vaccines you should get depends on where you're traveling. A yellow fever vaccine is required for parts of Asia, for instance. And hepatitis A and B vaccines are required for parts of Europe.
Visit the CDC's travel site for information on your destination. Or ask your doctor what's best for you.
The bottom line
Getting vaccinated when it's time is a smart way to stay safe. If you're unsure about a particular vaccine, talk to your health care provider.
Optum Perks can help you save money on the vaccines you and your family need, from flu to shingles.