This New Year's resolution is better than weight loss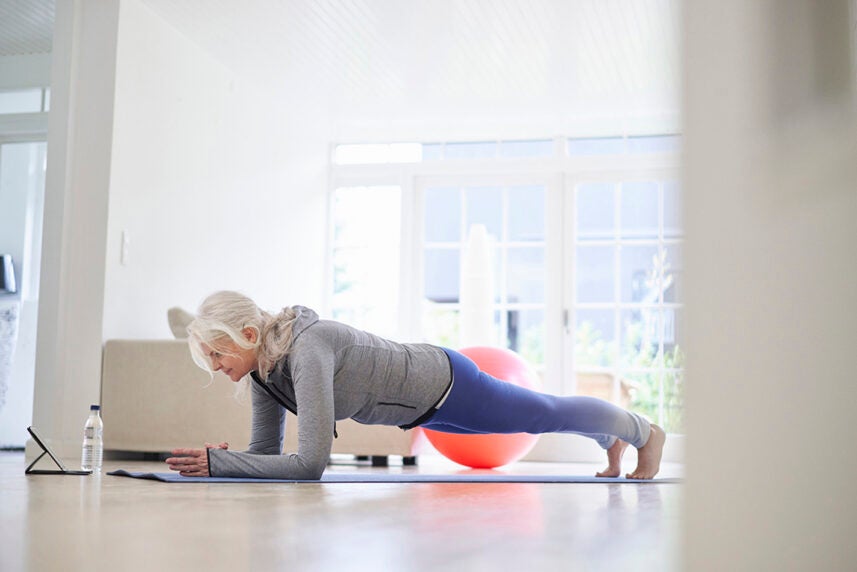 When it comes to health, building strength may have more of a payoff than losing weight.
Updated on
December 23, 2021
The start of the year represents a new beginning. For many people, that involves fitness.
"Exercising more" is the most popular New Year's resolution in America, according to a 2020 YouGov poll. Half of respondents said it was a priority. At the same time, 37% of people said they wanted to lose weight.
Losing weight is good, of course. But it might not be the best way to measure your success. New research suggests that you might be better off focusing on muscle instead. And rather than losing it, you want more.
A little fat may not be so bad
Researchers have long known that obesity is linked to chronic diseases such as heart disease and type 2 diabetes. But that doesn't mean all body fat is bad. For older adults, a little bit may actually be good for you.
(Saving money can be good for you, too. Download the Optum Perks mobile app to save up to 80% on prescription medications.)
In a review of 71 studies, researchers from Canada's McMaster University found that for adults age 65 and older, being a little overweight reduces the risk of an early death. That can be surprising to people who believe that skinnier is always better. Turns out, that's not necessarily the case.
Adding muscle has proven benefits
Most people begin to lose muscle mass after they hit age 30, according to Harvard Health. And the rate of loss is about 3% to 5% per decade.
Over time, this drop in strength can lead to frailty. It can also increase your risk of injuries and medical complications. According to research from the University of Michigan School of Public Health, older adults with low muscle mass were 50% more likely to die during a 9-year study.
(Are you one of the 94% of older adults who take a medication that increases the risk of falling? Here are some ways to stay safe.)
"Low levels of muscle mass are associated with increased risks of several diseases," says Marc Meny, a personal trainer based in New York City. That's one reason he recommends adding strength training to your exercise routine.
Strength training involves lifting weights or doing repetitive motion exercises that take advantage of your own body weight. Examples include:
Lifting dumbbells
Using elastic resistance bands
Body weight exercises, such as push-ups and sit-ups
Heavy gardening, which may involve digging and carrying dirt
Yoga that includes strength-building poses
Doing these kinds of exercises can help keep you mobile, and they may add years to your life. The impact may be greater than what you'd expect from a flat belly.
Plus, for people with genetic obesity, exercise might not lead to weight loss. (In that case, weight-loss medication may help.)
How much strength training do you need?
According to the U.S. Department of Health and Human Services (HHS), adults should do muscle-strengthening workouts at least 2 days a week. (This is in addition to 150 minutes of moderate-intensity cardio, such as jogging, swimming or playing tennis.)
The HHS further explains that on strength days, you should aim to work all major muscle groups: legs, hips, back, abdomen, chest, shoulders and arms.
Nearly 80% of adults are falling short of these recommendations. The HHS estimates that nearly half of Americans have at least 1 chronic disease that could be prevented with exercise.
The benefits of focusing on strength training
Resistance exercise does much more than build your biceps. Here are some of the benefits:
Reduced risk of heart disease. People who strength train even once a week are 40% to 70% less likely to have a heart attack, stroke or other cardiovascular event. This is according to a study of 12,500 people published in Medicine & Science in Sports & Exercise.
Improved brain health. "Higher levels of muscle strength are linked to better cognitive performance," says Dani Schenone, a certified personal trainer and yoga teacher with Mindbody. To her point, a study review from 2020 found that resistance exercise was associated with lower rates of cognitive decline and a better ability to make decisions.
Increased bone density. Putting weight on bones causes them to adapt by growing stronger, according to a paper published in Endocrinology and Metabolism. This lowers your risk of osteoporosis or sarcopenia, says Meny.
Improved quality of life. This is especially true for older adults, says Schenone. "Increased muscle mass and strength allows greater range of motion, more mobility overall, and increased motor function," she says.
More calories burned. At rest, muscle burns more calories than fat, says Meny. "So the more muscle mass we have, the more calories we burn."
Save up to 80% on your medications
Get prescriptions for as low as $4 with our free discount card, redeemable at over 64,000 pharmacies nationwide.
Get free card
How to eat for muscle growth
The food you eat fuels the muscle you build. So in addition to adding resistance to your routine, you should learn how to eat for strength. And that largely means adding protein.
According to the Mayo Clinic, active adults should eat roughly 2.5 to 4.5 grams of daily protein per pound of body weight. Healthy sources include poultry, fish, beans, peanuts, eggs, Greek yogurt, cheese and tofu.
How to get started
If you're new to strength training, you can learn by watching online videos or asking for help at your local gym. "The sooner you start, the sooner you will start benefiting from it," says Schenone.
But to avoid injury, she recommends starting slow and using less weight than you think you can handle. You might even stick to body weight at first. You can always add weight once you're comfortable with the moves. "Prioritize alignment over weight load, and keep a positive attitude throughout your workout," she says. Squats, deadlifts and lunges are all good moves to begin with, Schenone says.
You should also limit your number of workouts. "Try to strength train twice a week for the first month, and then increase your routine to 3 times a week the following month," says Meny. "Remember, it's all about consistency over a long period of time."
As your fitness improves, you may find that you're spending less time at the doctor's office. But for times when you need medication, Optum Perks may be able to help. Download our free discount card and present it at the pharmacy to save up to 80% on your prescription.