This Thanksgiving, say no to IBS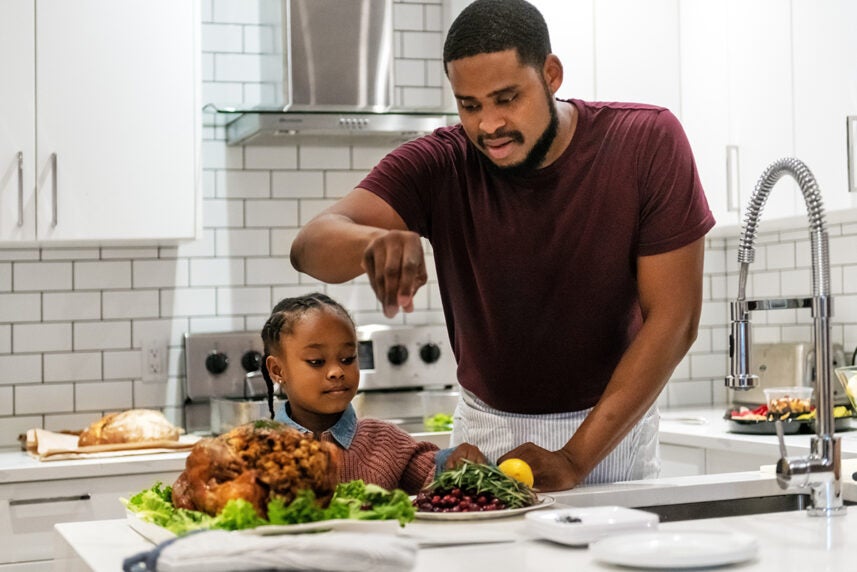 Enjoy the feast — and be thankful for avoiding a flare-up. Here's how.
Updated on
November 4, 2022
Thanksgiving just might be the best holiday of the year: All you need to do is be grateful — and eat. No presents to buy, no decorations to worry about. Just an amazing feast, surrounded by the people you love.
That is, unless you've got irritable bowel syndrome (IBS). For you, Thanksgiving could mean pain and anxiety. Your favorite stuffing and sweet potato casserole could cause havoc with your stomach. The long car ride — with no access to a bathroom — could fill you with dread. And an argument around the dinner table could trigger anxiety and bring on an IBS attack.
"The purpose of Thanksgiving is to celebrate the harvest and the blessings of the past year," says Karen Smith, MD. She's a family doctor in Raeford, North Carolina, and is on the board of directors for the American Academy of Family Physicians. "But IBS may be as unpredictable as the harvest. To keep it from spoiling your holiday, you need to maintain the balance of your body, mind and environment."
Here are 5 simple strategies for dealing with the day.
Know what foods are right for you — and which aren't
If you haven't been keeping a food diary, now's a good time to start. "A diary can help you make the best food selections at Thanksgiving dinner," Dr. Smith says.
If dairy, nuts or other foods cause your bowels to act up, consider other options, says Dr. Smith. "A little avoidance can prevent a lot of misery. The key is to know — and eat — the foods that are bowel-friendly for you. And stay away from your IBS triggers. Sometimes that means you just have to say no to your auntie's special dessert," she says.
Recommended reading: 4 signs that your bathroom problems might be due to IBS.
Keep up with your medications
There's no cure for IBS. But there are medications that may help relieve symptoms. As you get ready for Thanksgiving, be sure your prescriptions are up to date. Prescription medications that can ease your IBS include:
Remember to use your free prescription discount card any time you go to the pharmacy. You don't want to miss out on potential savings.
Practice moderation
Don't save up your calories so that you can gorge yourself at the big meal. "When you fast and then binge, you think you're controlling your food intake, but that can actually lead to bowel problems," says Dr. Smith.
Beware of eating too much, too. If you're the chef, for example, watch out for taste-testing in the kitchen. "All those little bites can add up to more calories than you'd eat sitting down for a meal," she says. "Plus, all those unusual combinations could lead to an IBS flare-up." 
Save up to 80% on your medications
Get prescriptions for as low as $4 with our free discount card, redeemable at over 64,000 pharmacies nationwide.
Get free card
Listen to your body
Your gut will tell you how much food is too much. You just have to listen. "Be mindful of the sensation of feeling full," Dr. Smith advises. "Don't guess how full you are based on how tight your pants are or the belching sensation you feel."
Instead, make a plan. Scan the table and figure out what looks good, then choose what works for you. "Start with a small portion. Enjoy a second portion later if your stomach doesn't feel full."
Keep calm
Your belly and your brain are connected. "Emotionally intense or draining situations can bring on bloating, a change in your stool, queasiness or pain," says Dr. Smith. A 2022 study found that when people experienced IBS symptoms, they were more likely to report mental health symptoms, too. These included anxiety, depression or a sense of hopelessness.
To make matters worse, says Dr. Smith, foods that are usually fine can provoke IBS symptoms on Thanksgiving. So be prepared. "Besides planning what you'll eat, you should also plan how to remain in a peaceful state of mind," Dr. Smith advises. Easier said than done, especially when the conversation gets heated or somebody has a little too much to drink. Try these tips:
Practice simple relaxation techniques. One of the easiest and most effective ways to do this is by deep breathing. A study published in 2021 showed that people who tried this technique experienced a big decrease in anxiety. Just inhale slowly, hold for a couple of seconds, then exhale slowly. Try this whenever you start to feel anxious.
Keep moving. Grab your jacket and head outside for a stroll. A recent study showed that people who went for a walk in nature had lower levels of the stress hormone cortisol, which increases anxiety. Plus, exercise can help with your IBS symptoms. "Walking with dinner mates or by yourself keeps your bowel moving," says Dr. Smith.
Know when to say goodbye. If you're feeling anxious, your best strategy might be to call it a day. Have a planned exit strategy. For example, you might let your host know that you've got an early day tomorrow, or that you're eager to beat the traffic. "Recognize your point of no return as the right time for a polite end to the day's event," suggests Dr. Smith.
You don't have to deny yourself the foods you love this Thanksgiving — just make smart choices and enjoy in moderation. Remember to take your IBS medications. And don't get caught up in any family drama. Here's to a worry-free holiday.
No matter how you manage your IBS, Optum Perks wants to help you save at the pharmacy. Here's how it works.