Questions to ask your pharmacist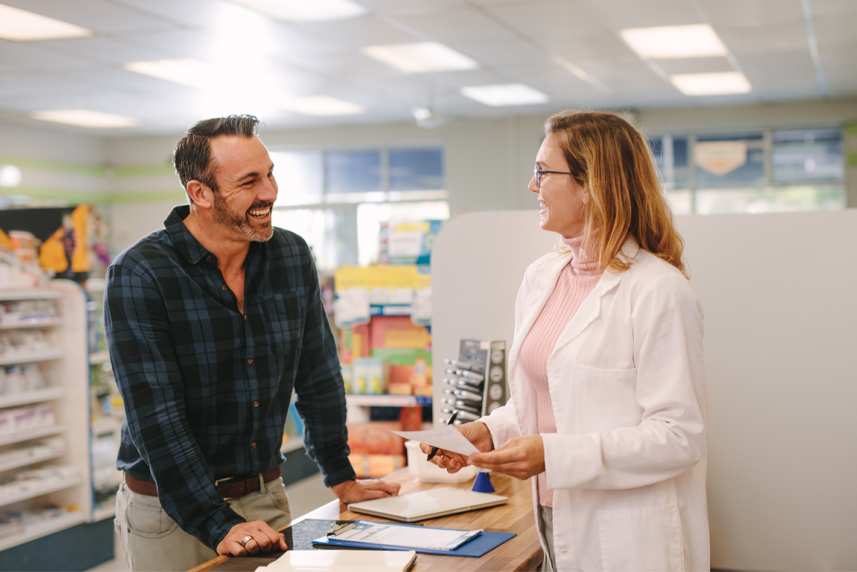 Updated on
September 19, 2020
Get to know your pharmacist
Taking medications and filling prescriptions is a part of everyday life for many people. If your doctor has been prescribing you medication, or multiple medications, chances are you're making regular trips to the pharmacy. You might even know your pharmacist and pharmacy staff by name, which can make picking up your medication a more seamless part of your errands.
But what if you want more than your prescription filled? What if you have questions about the medications you're taking, possible side-effects, recommended dosage or when to take a particular drug? Pharmacists are trained to talk to patients about their medications and can offer advice on how to take them and if there may be reactions to the drug you've been prescribed.
Asking the right questions
Pharmacists are happy to put their years of training to work and help their patients. Checking in with your pharmacist can also put your mind at ease and help you stick to your medication plan.
Here is a list of questions to help you get the most out of your pharmacy visit.
How do my medications work?
Your pharmacist can tell you if there are potential side-effects from individual drugs, if the combination of multiple drugs could be interacting in a harmful way, or if different drugs are serving the same function. If there is, it could mean reducing the total amount of medicine you're taking, or finding an alternative to your current medication plan.
When and how should I take my medication?
The directions on your medication packaging gives you a broad guide on when to take your medication, but your pharmacist can provide more specific advice. Beyond the day you should start a prescription, they can tell you if it should be taken with food, or should you take it only if the condition worsens, or if you shouldn't drink alcohol while taking a certain medication.
Save up to 80% on your medications
Get prescriptions for as low as $4 with our free discount card, redeemable at over 64,000 pharmacies nationwide.
Get free card
What can I do about side effects?
If you're feeling sick or drowsy after taking your medication, your pharmacist can review your medication history to narrow down which drug may be responsible. They may recommend taking the medicine at a different time, or they may offer advice about how to discuss it with your doctor.
Should I change my diet because of my medication?
The different foods, drink, supplements, vitamins etc. you put in your body can interact with your medication, and not always in a good way. Letting your pharmacist know about your regular diet and any vitamins or supplements you're taking gives them a clearer picture of how you may react to the medication. You should also listen carefully to the types of foods your pharmacist recommends eating more of, but also listen out for the types of food to avoid when taking certain medications.
How can I save on prescription drugs?
Pharmacists are aware of the rising prices of prescription drugs, and the fact that their patients may be struggling to keep up with the cost of their medication. They may offer generic alternatives, and they may also be aware of prescription drug coupons available for your medication.
If you've been using an Optum Perks discount card you should mention it to your pharmacist to make sure you're getting the lowest possible price for your medication. Pharmacists can tell you if it makes more sense to use your Optum Perks card or your insurance when paying for prescriptions. If you don't have insurance, they can tell you if you could pay less for your medication with an Rx discount card or coupon.