Natural pet products to use (and the ones to avoid)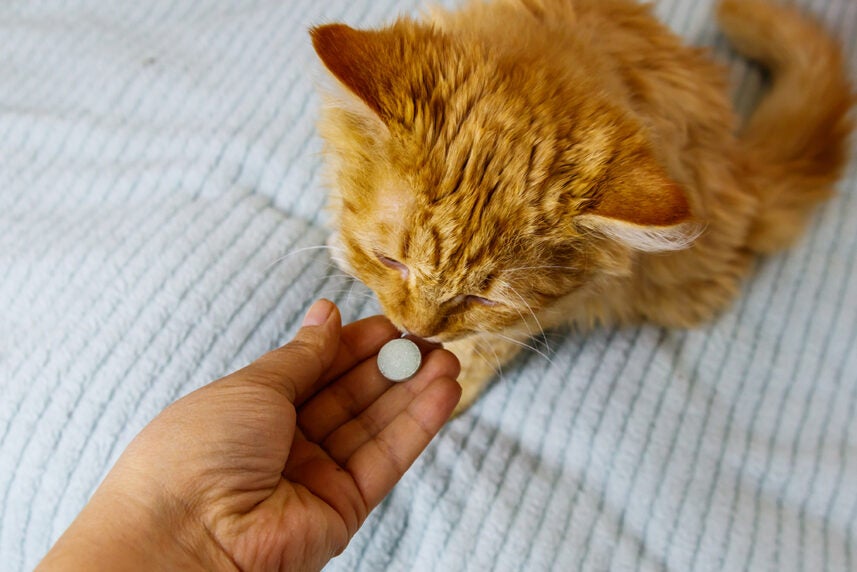 When it comes to pet supplements, "natural" doesn't always mean "healthy." Here's what to keep in mind when searching for products for your furry friends.
Updated on
August 8, 2022
Pet health is having a moment. Many people became pet owners during the pandemic, and they're paying close attention to their pet's diet, activity level and emotional wellness. So it makes sense that the use of pet supplements is on the rise. According to Grand View Research, the global market for pet supplements was valued at $1.9 billion in 2021. And pet parents are turning to "natural" products to help keep their pets healthy and thriving.
"Natural products are trending among veterinary clients, reflecting that same growing trend in society," says Jared Pitt, DVM. He's a veterinarian and partner doctor at Heart + Paw in Marlton, New Jersey. Pet parents are more likely to select supplements marketed as "natural" as opposed to ones made in a lab, Dr. Pitt says.
"People think that 'natural' and 'healthy' go hand in hand, though that may not always be the case," he says.
If you plan to give your pets supplements, you should talk to your vet.
And if you want to save money on your pet's medication, use the Optum Perks coupon search tool. Just show your coupon at your pet's pharmacy — it's that simple to save up to 80% on prescriptions.
The best types of natural pet products
Fish oil supplements
Fish oil can benefit your pet inside and out. It promotes a silky coat, can help relieve allergies and reduces itchy, flaky skin, according to the American Kennel Club. Fish oil also supports heart and joint health.
"Fish oil is derived from marine and freshwater fish and contains the proper balance of omega-3 and omega-6 fatty acids," Dr. Pitt says. "These nutrients have shown to be beneficial with regard to anti-inflammatory properties for skin, joints and kidneys."
He recommends Omega Benefits® from Veterinarian Recommended Solutions.
If your pet isn't good about taking pills, try these 6 tips to get your dog or cat to take their medications.
Prebiotics or probiotics
If you take a prebiotic or probiotic, you know it can help improve your gut health. These supplements can offer the same benefit to your pet.
"At my practice, I recommend them as part of a preventive health plan for my patients," Dr. Pitt says. "They promote a healthy gut biome, which in turn promotes overall health for the animal."
He recommends Entero TruBenefits® from Veterinarian Recommended Solutions and FortiFlora® SA from Purina.
Joint supplements
Keeping your pet's joints healthy with a supplement is a great way to help them stay mobile as they grow older.
"These contain ingredients derived from mussels that promote cartilage and joint health," Dr. Pitt says. "It may be a healthier alternative to relying solely on NSAIDs [non-steroidal anti-inflammatory drugs]." NSAIDs such as aspirin can have dangerous long-term effects on pets, he says.
Dr. Pitt recommends Osteo TruBenefits® from Veterinarian Recommended Solutions.
Pet products that could do more harm than good
Cannabidiol (CBD)
CBD is everywhere these days, including in pet products. It's touted as a natural solution to help pets in pain. But you should use caution if you're considering giving it to your pet.
Tetrahydrocannabinol (THC), as with CBD, comes from the marijuana plant. THC is the psychoactive ingredient that produces a high, according to the Mayo Clinic. CBD doesn't contain this chemical.
But, says Dr. Pitt, "many CBD chews and treats in pet stores are allowed to put 'THC-free' on their label, even if they contain up to 0.3% THC."
Veterinarians are concerned about the toxicity of THC to pets, Dr. Pitt says.
"Be sure that the manufacturer has substantial testing for all traces of THC before purchasing," he says.
Recommended reading: How to tell if your cat is sick.
Save up to 80% on your medications
Get prescriptions for as low as $4 with our free discount card, redeemable at over 64,000 pharmacies nationwide.
Get free card
Flea and tick products that contain garlic or onion
Fleas and ticks can cause many health problems and diseases in pets, according to the U.S. Food and Drug Administration. These include:
Flea allergy dermatitis
Lyme disease
Ehrlichiosis
Anaplasmosis
Rocky Mountain spotted fever
Babesiosis
Bartonellosis
A proper flea and tick medication is crucial to prevent your pet from getting sick. But some natural flea and tick products may not work as well as those designed in a lab. In fact, they could cause more health problems.
"Even if the label states that it's safe for dogs and cats, please stay away from these," Dr. Pitt advises. "Garlic is known to cause anemia in veterinary patients."
Dogs and cats are also susceptible to poisoning from eating onions. According to a report in Frontiers in Veterinary Science, ingesting onions, garlic, leeks or chives can cause severe symptoms in pets, including:
Vomiting
Diarrhea
Abdominal pain
Loss of appetite
Depression
Anemia
Rapid breathing and heart rate
Jaundice
Joint supplements that contain aspirin
Joint supplements can be a great addition to your pet's health, especially as they age. But supplements that contain aspirin can be harmful.
"Please avoid these products as they could cause liver damage and bleeding disorders," Dr. Pitt warns.
"Natural products certainly have their place in helping our furry loved ones," Dr. Pitt says. "Just be sure to check with a veterinarian before purchasing to make sure that the product you're looking into is indeed safe for your pet."
And don't forget to download the free Optum Perks discount card before heading to the pharmacy — it works for you and your pet.