Cold and flu update: the good and the bad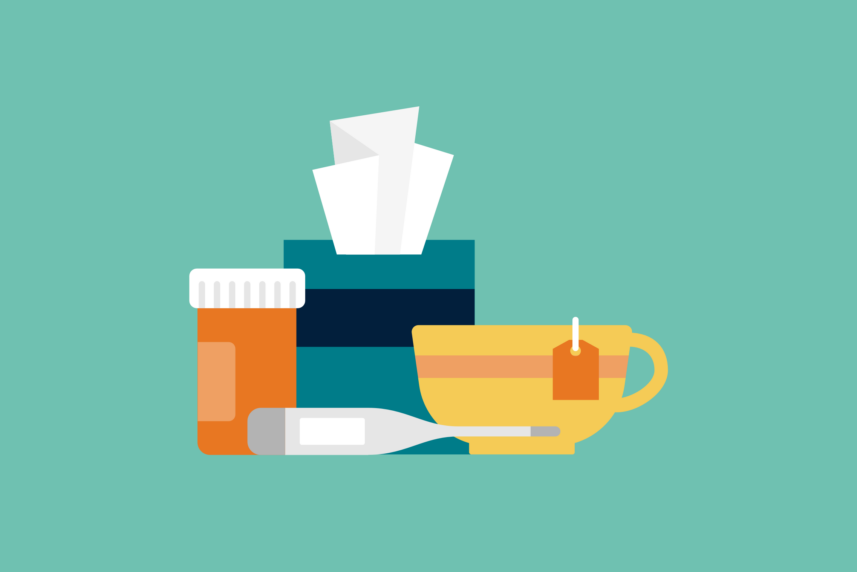 Updated on
February 14, 2021
What are your symptoms?
With focus centered on the coronavirus pandemic this year, we haven't heard much about how we're in the middle of cold and flu season. That's because seasonal influenza activity in the United States remains lower than usual for this time of year, according to the CDC. The first novel influenza A virus infection of the 2020-2021 season was reported in late January. The same safety measures that help prevent COVID-19 (mask-wearing, social distancing, increased hygiene, reduced travel) have had an impact on all common respiratory illnesses.
However, this hasn't prevented cold and flu-like symptoms from spreading and causing concern. Got a runny nose? It could be COVID. Or the flu, or a cold, or allergies. Symptoms from these ailments are non-specific and overlap. They include:
Runny nose
Stuffed nose
Sore throat
Low-grade fever
Muscle aches
Headache
Chills
Cough
There's good news and there's bad news.
The good news
The common cold might help protect people from COVID-19. COVID-19 is a coronavirus, and coronaviruses are a cause of the common cold. A previous infection with one strain might offer some protection against the other.
It's also good news that experts are forecasting a mild end to the flu season in 2021. This allows hospitals and healthcare providers to focus their time and resources on treating patients with COVID-19.
RSV (respiratory syncytial virus), which commonly affects children and is responsible for 5% of the deaths of children worldwide each year, has seen an abrupt decline.
The bad news
This year's flu is used by scientists to identify emerging strains to prepare next year's vaccine. The sample size to study is noticeably smaller, making new strains harder to predict.
All of our safety measures could leave us open to new flu variants, including swine flu.
Those cold and flu symptoms you're experiencing could still be COVID-19. Pay close attention to whether you lose the senses of taste and smell, and who you've been in contact with.
COVID-19 is not yet contained, and the vaccine rollout has been a multi-step process. Whether due to holidays, weather, disorganization, communication, or any other reason, essential workers and other at-risk populations are not vaccinated.
What this means for us now
With so many unknowns, it is essential that we continue to practice all safety measures, even if you've been vaccinated for the flu or COVID-19. It's not yet known whether COVID-19 prevents transmission from a vaccinated person to another. Plenty of viruses that cause the common cold, like the rhinovirus and other coronaviruses, are still spreading. The seasonal flu could still make a comeback. Remembering to do the following will keep you and your family safe:
Get a flu vaccine (you still can)
Practice good personal hygiene
Continue to social distance
Stay home if you don't need to go out
Wear masks if you are in public, both indoors and outdoors
For the latest updates, bookmark the CDC website here.