8 low-carb foods that won't break the bank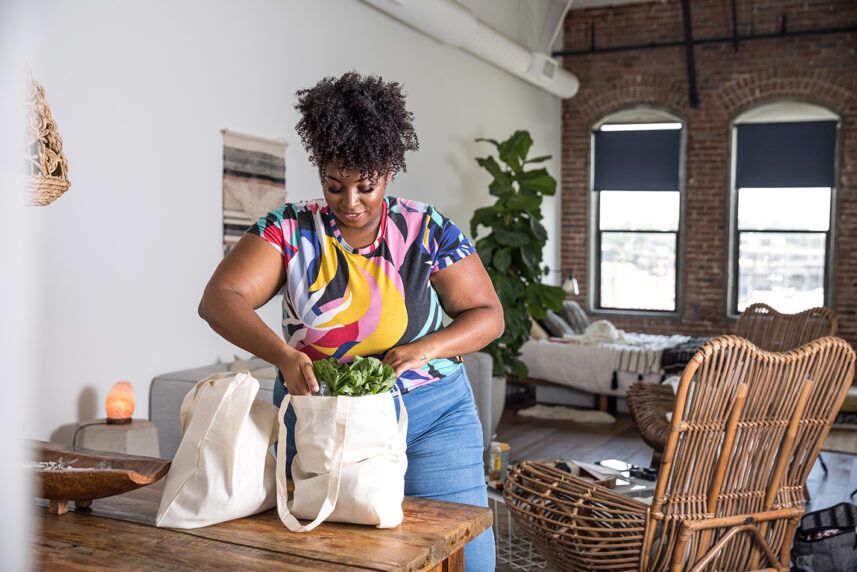 Whether you want to lose weight or eat more balanced meals, these nutritious and budget-friendly options are sure to satisfy.
Updated on
January 4, 2022
When you think of low-carb foods, what's the first thing that comes to mind? Is it pricey cuts of steak? Or perhaps paycheck-per-pound servings of fresh salmon?
The fact is that low-cost and low-carb can go together. Really. It just takes a bit of grocery store savvy to make it happen. Take chicken thighs, for example. They're cheaper than chicken breasts and can be paired with just about any side dish.
Here's even better news: Many quality foods that are low in carbs are also high in protein, healthy fats or fiber (nuts cover all 3). That means you'll feel fuller for longer after eating them.
"You'll get an automatic reduction in hunger and calories," says Rachel Paul, PhD, a registered dietitian based in Jersey City, New Jersey. And that can add up to big results when it comes to fueling weight loss efforts.
Cutting down on carbs is certainly on trend. But spending a fortune on food doesn't have to be. Here's how to fill your plate with healthy and budget-friendly choices.
(And you can find free medication coupons here. To search, simply enter the name of your prescription or condition to see what comes up.)
Why go low-carb in the first place?
Despite what you might think, not all carbohydrates are the enemy. Your body actually needs them for energy and good health.
On a basic level, carbohydrates are the sugars, starches and fibers that plants make by using carbon dioxide, water and energy from the sun. They're the building blocks of vegetables, fruits, whole grains, legumes, nuts and seeds. And these carbohydrate-rich foods are chock-full of disease-fighting nutrients.
In fact, a plant-based diet may lower your risk of heart attacks and other types of heart disease, according to the American Heart Association (AHA).
The trouble happens when these carbohydrate-rich foods are processed. For instance, when we strip wheat or corn of their nutrient-rich layers, we create simple carbs that no longer resemble their plant origins. To make matters worse, other substances such as salt, oil and sugar are often added as well.
The effect: These quickly digestible carbs can spike your blood sugar. Examples include white bread, pretzels, soft drinks, chips and packaged cakes and cookies. Eating these refined foods has been linked with inflammation, as well as chronic health conditions such as diabetes. (These 5 habits can help put type 2 diabetes into remission.)
A 2018 study even found that people who ate the most highly processed foods had the highest risk of cancer. And that's bad news, especially when you consider that processed foods are where 67% of Americans under age 20 get most of their calories, according to a 2021 study in the Journal of the American Medical Association.
Instead, choose "wholesome and unprocessed foods that contain essential nutrients," recommends Julie Mancuso, owner of JM Nutrition, a nutritional counseling service in Toronto. "You also need to make room for healthy fats, lean proteins and vegetables."
You'll find many such foods — at prices that make it easy to eat healthy — in our list below.
8 low-carb foods you can buy on a budget
The key to a budget-friendly, low-carb diet is finding foods that are filling and versatile. And of course, they should be ones you like eating. Mancuso and Paul share 8 options that fit the bill.
Eggs
Eggs are basically a nutrition bomb. First, they're high in protein and vitamin B12 (to help keep blood and nerve cells healthy). They also contain vitamin A (important for your immune system) and choline (for regulating mood, memory and muscle control).
If you have a dozen eggs in your fridge, you have a dozen dishes you can make. A hard-boiled egg, for starters, makes for a highly nutritious and highly portable snack. For a breakfast with staying power, try egg-bean-pepper breakfast quesadillas or muffin-tin omelets. And for lunch or dinner, pack wilting greens into a frittata.
Tuna
Tuna is high in protein and ever-important omega-3 fatty acids — a super-good-for-you fat. Omega-3 fatty acids have been connected to a lower risk of heart disease and stroke, says the AHA, and other studies indicate that it's good for your brain, too.
Canned tuna is inexpensive and can go a long way. Mix up a 5-ounce can with some avocado and a little mayo and you'll have enough for a couple of tuna salad sandwiches. You can also have it as a snack with a cup of baby carrots, Paul suggests. Or use it as a protein-packed topper on a salad.
Free prescription coupons
Seriously … free. Explore prices that beat the competition 70% of the time.
Get free card
Canned salmon
Canned salmon is another fantastic omega-3-rich fatty fish option, and it's much cheaper than the fresh form. Not to mention it's a "low-carb option that packs a heavy protein punch," Paul says.
You can use canned salmon as a main protein in a salad, mixed with mayo for a salmon salad sandwich, or combined with almond flour for a low-carb salmon patty.
Cottage cheese
Cottage cheese is an ideal high-protein, low-carb option. One cup of 1% fat cottage cheese contains just 6 grams of carbs — but 28 grams of protein. That's more than half the recommended 50 grams of protein most adults need each day.
Cottage cheese tastes great on its own, but it's also a perfect canvas for other flavors. Toss in some herbs, salt and pepper to make a vegetable dip. Or sprinkle in some cinnamon for something more like dessert. And try mixing in toasted nuts for crunch and flavor.
Peanuts
You might think nuts are expensive. But they don't have to be. They're easy to buy in bulk, which drives the cost down significantly, Mancuso says. And if you follow the recommended serving size — usually one-quarter of a cup — you can stretch your purchase for a long time.
Peanuts, or any nuts really, make a great snack, and you can add them to just about anything. Sprinkle them into salads or oatmeal, toss them with steamed veggies, or crush them up to make a breading for meat or fish. And as a major bonus, they're rich in healthy fats and fiber, Paul says.
Squash
Have you heard about the veggie noodle trend? If so, you know that many varieties of squash, such as zucchini, spaghetti squash and butternut squash, tend to make great pasta alternatives. It's a win-win: You're cutting down on carbs and adding more vegetables to your meals.
You can buy pre-prepped veggie noodles in the fresh or frozen sections. But it's cheaper to buy a whole squash and make your own. Spiralize butternut squash and use it as a substitute in your favorite pasta dish. Or, for a noodle-less lasagna, try splitting a spaghetti squash in half, mixing in sauce, cheese and other additions, and then baking faceup in the oven.
Whole chickens
It's not unusual for an entire chicken to cost the same as (or less than) a couple of chicken breasts. So if you have the time, cooking a whole bird doesn't have to just be a holiday thing.
This is a meal fit for a whole family — and there's a lot you can do with any leftovers. Shred the remaining chicken and bake it into a frittata, or use it to make a taco bowl. Comforting chicken soup is also a favorite during winter.
Arugula and spinach
Leafy greens are powerful nutrition boosters. They're low in carbs but high in vitamins and cancer-fighting antioxidants. Any of your favorites, such as kale, collards or cabbage, will work. But spinach and arugula are especially versatile.
Both make a great salad base — especially arugula, with its flavorful peppery bite — and they hold up well as add-ins to soups and stir-fries.
There are ways to make eating low-carb meals easy, healthy and cheap. And there are also ways to find savings on your prescription medications. Use our free mobile app to find the best discounts anytime, anywhere.