7 ways to save on your child's asthma inhalers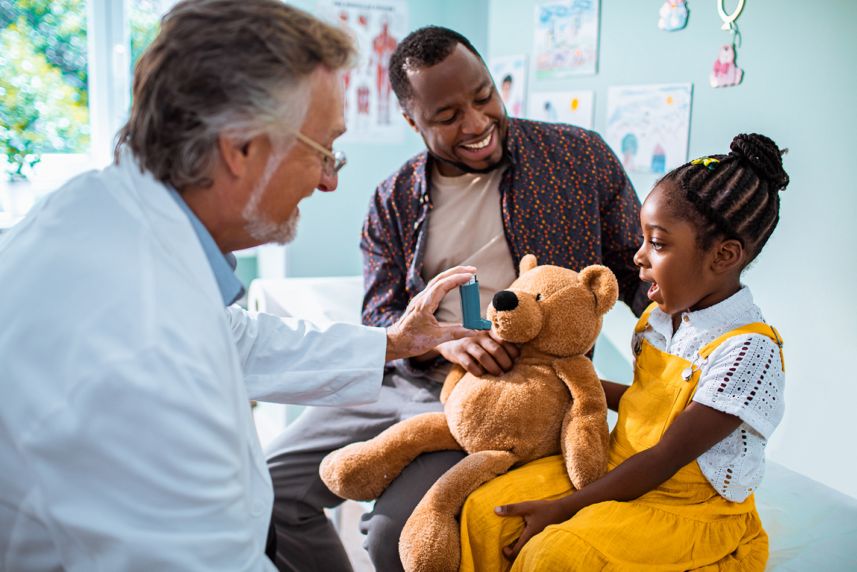 From coupons to prescription changes, try these tips to cut down on medication costs for asthma treatment.
Updated on
August 23, 2021
Shortness of breath, chest tightness, wheezing. No parent wants to see a child struggle with asthma.
Yet it's very common. More than 5.1 million kids in the U.S. have asthma, according to the Centers for Disease Control and Prevention (CDC). And they often have a tougher time with the condition than adults. Kids are more prone to asthma attacks, and those attacks are more likely to land them in the emergency room. It's even a top reason kids miss school, says the CDC.
One way to keep kids healthy: Make sure they have the medication they need when they need it. But that can be easier said than done. Many parents struggle to afford just 1 inhaler for their child, let alone a second rescue inhaler for school. In fact, the average out-of-pocket cost of asthma prescriptions approaches $2,000 each year, according to a study published in the Annals of the American Thoracic Society.
So why are these potentially life-saving medications so expensive? Well, the cost soared after the U.S. Food and Drug Administration (FDA) banned the use of a common ingredient in many inhalers in 2008. Chlorofluorocarbons, or CFCs, were found to deplete the earth's ozone layer. As a result, drug companies designed new inhalers, patented them and raised prices. It took years for lower-cost generics to come on the market.
While there are still few generic inhalers available, several have been approved in the past couple of years. By 2020, for example, the FDA had approved generic versions of some of the most commonly used asthma medications (click each drug name to access an instant coupon):
Still, asthma medications can be costly. You have several options, though, for taking some of the sting out of prescription drug prices. Here are some of the top tips to try.
1. Check your insurance plan
If you have health insurance, check the formulary, which is the list of generic and prescription drugs covered by your plan. "Make sure that your child's inhalers are listed and that the copayment is affordable," says Lori Ann Wilken, PharmD. She is a clinical pharmacist at the University of Illinois Chicago.
If your child's prescription isn't covered, ask your doctor if he or she can prescribe a different medication or a generic version of the one they're on. "The generic versions have the same exact medicine as the brand-name versions," says Melanie Carver. She's the chief mission officer at the Asthma and Allergy Foundation of America.
2. Ask for more
You could save money by asking your doctor to make a few changes to your child's prescription. For example, Wilken recommends asking your doctor to prescribe 2 quick-relief inhalers at the same time and to write a prescription for a 90-day supply so that you have only 1 copayment for 3 months' worth of inhalers.
3. Compare pharmacy prices
Not all pharmacies charge the same amount for the same medication — even if you have insurance. Call around to see who has the best price. Better yet, download the Optum Perks app to easily find the lowest price at a pharmacy near you. It'll even compare costs at club stores such as Costco, whose pharmacies are sometimes open to nonmembers, Carver says.
Free prescription coupons
Seriously … free. Explore prices that beat the competition 70% of the time.
Get free card
4. Search for coupons
Even if your insurance covers your child's asthma medications, they still might not be affordable. That's where Optum Perks comes in. Our prescription discount program works as an alternative to insurance to save you up to 80% on medications. You can download the app or the discount card to get exclusive coupons. Both are free. Simply show the coupon to your pharmacist and see how much you could save.
5. Consider Medicaid or CHIP
Depending on your income or other requirements of your state, you or your child could qualify for prescription medication benefits through Medicaid or the Children's Health Insurance Program (CHIP). These programs offer free or low-cost health coverage for kids and teens up to age 19.
6. Look for a patient-assistance program
When you're struggling to pay for prescriptions, it can feel like no one has your back. But there are groups that want to help. For example, the Asthma and Allergy Foundation of America has regional chapters. And these groups can help you find savings locally. A host of nonprofits and even drug companies themselves offer copay-assistance programs. The AAFA has a list of resources here.
7. Appeal your insurance coverage
"If your insurance refuses to pay for a medicine, you have the right to appeal," Carver says. Essentially, that means you are asking the insurance company to investigate and reconsider the decision to deny coverage of a certain medication or procedure. Healthcare.gov walks you through the steps of the appeal process.
Learn more about how Optum Perks works — and how it can help you save on your family's prescriptions at over 64,000 pharmacies nationwide.
Additional sources
Overview of asthma: MedlinePlus
Economic burden of asthma: Annals of the American Thoracic Society (2017). "The economic burden of asthma in the United States, 2008-2013″
How the FDA ban impacted asthma medication prices: JAMA (2015). "The impact of the US Food and Drug Administration Chlorofluorocarbon Ban on out-of-pocket costs and use of albuterol inhalers among individuals with asthma"
Patient assistance program resources: Asthma and Allergy Foundation of America