5 simple exercises to ease carpal tunnel pain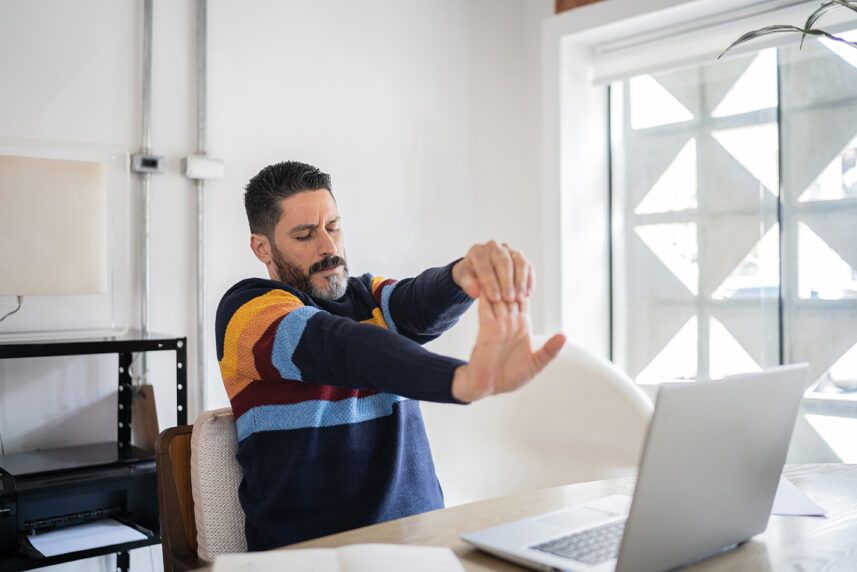 Flexing your fingers, hands and wrists can help you find relief and get your strength back.
Updated on
January 31, 2022
There's nothing pleasant about carpal tunnel syndrome (CTS). The pain, numbness and pins-and-needles feeling in your hands and wrists can keep you up at night and make it hard to do your job. Over time, CTS can even make gripping objects, such as a doorknob or steering wheel, difficult.
So what is carpal tunnel syndrome, anyway? Let's start with a little anatomy lesson: There's an actual tunnel made of bones and tissue in your wrist that's called the carpal tunnel. The median nerve runs through it. That's the nerve that helps you move (and have feeling in) your thumb and the first 3 fingers on each hand.
When the median nerve gets compressed, that's when CTS happens, explains Michelle McMurray. She's a certified hand therapist at Rock Valley Physical Therapy in Bettendorf, Iowa.
Doing the same hand movements over and over again is thought to increase the risk of CTS. It's most common in people whose jobs require pinching or gripping with the wrist held bent, according to the American Academy of Family Physicians. Think of things such as scrolling on your phone, carpentry work, playing certain musical instruments, or years of using vibrating hand tools, such as a jackhammer.
But repetition is not the sole cause.
Some people are simply born with smaller carpal tunnels or other mechanical issues that make compression more likely. Injuries to the wrist can be the cause, too. So can conditions that bring on swelling or fluid retention, such as rheumatoid arthritis. (If you have rheumatoid arthritis or another condition that needs medication, we want to help. Download our app to search for free prescription coupons.)
Surgery is one way to relieve CTS symptoms. But there are also less invasive (and cheaper) treatments.
One option is to wear a wrist brace, especially at night. But another is to stretch your hands and wrists through exercises. This costs no money, and for most people, it's effective. A study published in the Journal of Hand Therapy found that people with CTS who stretched 4 times a day for 6 weeks reduced some symptoms and improved their pinch strength.
How to stretch for carpal tunnel syndrome
Carpal tunnel exercises should be done slowly and gently. If they cause you pain or make your symptoms worse, stop doing them, says Brittany Willis. She's a certified hand therapist at TRIA Orthopedics in St. Louis Park, Minnesota.
The goal is to relieve pressure on the median nerve — not make it angry. "You don't want to irritate the nerve even more," Willis says.
McMurray recommends that people do carpal tunnel exercises several times a day. Good times to do them include first thing in the morning, in the shower (to take advantage of the steam and heat) and right before bed, she says.
Here are 5 to try.
Stretch #1: Thumb flexion
This is a very simple (but effective) stretch that should be done several times a day.
Rest your forearm and hand on a table, with your palm facing up.
Bend your thumb across your palm so that it touches the base of your little finger. Hold that position for 6 seconds and release.
Repeat the motion 8 to 12 times, and then switch hands.
Stretch #2: Wrist extensions
This stretch can be a good warm-up before any activity that involves gripping.
Straighten your arm and hold your hand up in a "stop" position, with your palm facing away from your body.
Use your opposite hand to gently apply pressure to the fingers of your upright hand until you can feel a stretch on the underside of your forearm.
Hold the stretch for 15 seconds.
Complete 5 extensions and then switch hands. Repeat 4 times a day.
Stretch #3: Wrist flexions
Like the wrist extension stretch, this is a great way to warm up before an activity. When doing this stretch, be mindful not to lock your elbow.
Straighten your arm with your palm facing the floor, and bend your wrist so that your fingers are pointing down.
Gently pull your hand toward your body until you feel a stretch on the top of your forearm.
Hold the stretch for 15 seconds.
Complete 5 stretches, and then switch to the other wrist. Repeat 4 times a day.
Free prescription coupons
Seriously … free. Explore prices that beat the competition 70% of the time.
Get free card
Stretch #4: Medial nerve glides
This is a more involved stretch. To get the most out of it, you may want to warm up first. Apply heat to your hand for 15 minutes. After doing the exercises, cool down by applying a bag of ice or frozen peas to your hand for 20 minutes. This will help prevent inflammation.
With your forearm parallel to the ground and your palm facing you, make a fist with your thumb outside your fingers.
Extend your fingers, while keeping your thumb close to the side of your hand.
Keep your fingers straight and bend your wrist back toward your forearm.
Keep your fingers and wrist in the same position, but extend your thumb so that it makes a 90-degree angle with your hand.
Keep your fingers, wrist and thumb extended, and turn your forearm so that your palm faces up.
Use your other hand to gently stretch the thumb toward your wrist.
Hold each position for 3 to 7 seconds.
Do this sequence 10 to 15 times, and then switch hands. Do these stretches once a day.
Stretch #5: Tendon glides
You may want to warm up and cool down when doing this one, too. You can also perform this exercise after the medial nerve glides.
Hold your hand up in the "stop" position, with your thumb at the side of your hand and your palm facing away from your body. Hold the position for 3 seconds.
Bend the tips of your fingers so that they're touching the top of your palm. Hold the position for 3 seconds.
Now make a full fist with your thumb over your fingers. Hold the position for 3 seconds.
Move through these 3 positions 5 to 10 times, and then switch hands. You can add more repetitions as the exercise gets easier. Repeat 2 to 3 times a day.
Related reading: Is it safe to use over-the-counter pain medication every day?
In addition to stretches such as these, Willis adds that some overall healthy habits can help lessen the symptoms of CTS. These include:
Minimizing how often you do repetitive tasks
Giving your hands a break every now and again (stretches are a great option)
Reducing the speed and force of activities you do with your hands
Avoiding tasks that involve vibration
Using adaptive equipment, such as rubber jar openers and ergonomic mouse pads, to reduce the force you need to complete certain tasks
These stretches can be a great starting point for addressing mild carpal tunnel pain. Discuss any concerns with your doctor, though. They'll make sure you're doing everything you can to find relief.
You want to make sure you're getting the best prices on your medications, too. Each time you fill a prescription, show this free discount card to your pharmacist. You could save up to 80%.